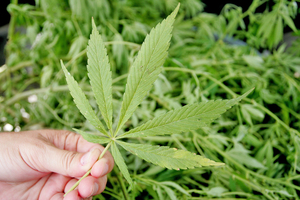 Police visiting a Kawakawa home to make inquiries about a burglary by chance found a major indoor cannabis growing operation.
The big bust came on Tuesday as police were investigating a burglary in Russell the previous night. Sergeant Nathan Davis said officers were talking to the occupants of a Kawakawa home when they noticed a strong smell of cannabis. When officers searched the house under the Misuse of Drugs Act they discovered 144 plants, including seedlings, young plants and a room full of mature plants about 70cm high.
The occupants, a man and a woman, were arrested and jointly charged with cultivation of cannabis. They appeared in the Kaikohe District Court on Wednesday and have been remanded in custody.
Mr Nathan said the couple were "anxious but pretty co-operative".
As a result of the Kawakawa bust police discovered a second indoor growing operation near Kerikeri.
Detective Patrick Derbyshire, of the Kerikeri CIB, said a search of a Lemon Grove property, off State Highway 10 north of Kerikeri, uncovered 120 cloned plants, ranging in size from 10cm to 16cm, growing under lights in a garage.
Police had yet to speak to the occupant of the property.
For more articles from this region, go to Northern Advocate