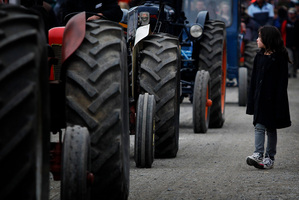 Fieldays fever has begun and motorists are warned of heavy traffic and delays.
The queues for Fieldays are expected to start from 6am today. Those who bought tickets online will have access to a separate entry and discounted prices for two or more tickets.
Fieldays was launched last night at Waikato University.
Minister of Agriculture David Carter will also officiate at a brief ceremony on the site at 12pm today.
Motorists are being urged to use State Highway 3 as a possible quicker alternative to State Highway 1 and to be aware of more traffic on the roads.
Other areas where there could be intermittent delays are Tauwhare Rd and the intersection of Shakespeare Rd and State Highway 1 as people return to Cambridge from the event in the evenings.
There is also a free every-half-hour bus service leaving from the Knox St carpark in Hamilton city and from Gate 10 at Waikato University.
Visitors can plan their day before they arrive by using the trip planner on the Fieldays website.
National Fieldays Society chief executive Jon Calder said the event was looking "better, bigger and brighter" than last year.
"The level of investment from exhibitors looks and feels like it has increased on last year. Certainly it's a sign of more buoyant times with dairy production being almost 20 per cent up ... I'm blown away by the sheer size and scale of things."
He said forecasts of fine weather were another bonus for the 120,000 visitors expected through the gate over the four-day event.
There is also a focus on education this year with 41 seminars being held to address the theme "The Changing Face of Farming".
Fieldays opens to the public from 8am today and runs until Saturday.
ON THE WEB
fieldays.co.nz