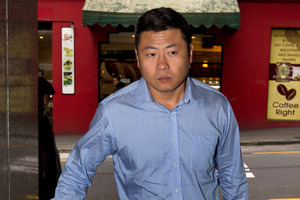 Hui "Leo'' Gao transferred cash into overseas bank accounts held by his parents before fleeing New Zealand.
The 31-year-old stood briefly in the dock at the Auckland District Court this morning where he pleaded guilty to seven charges of theft totaling over $6.7 million.
Nine other charges - including two of money laundering - were not mentioned in court today.
According to the police summary of facts, days after applying for a $100,000 bank overdraft for his struggling Rotorua BP petrol station, Gao realised the bank had mistakenly given him a $10m limit.
A flatmate overheard him yelling in April 2009 "f***ing rich ... I've got $1m''.
Gao then set about transferring millions from his business account to personal accounts in his name and those of his parents.
A total of $6.78m was transferred. Some went through remittance companies to accounts in China and Hong Kong.
Gao also transferred more than $347,000 to casino accounts in the Asian gambling capital of Macau before fleeing New Zealand.
His de-facto partner and the mother of his child, Kara Hurring, followed days later and opened a "player's account'' at the casino with her passport.
A further $2.179m was transferred to the same Macau casino. This time the "player's account'' was in the name of Gao's father, Alex Wang.
The couple's disappearance sparked an international manhunt involving Interpol and other overseas agencies.
Gao was arrested last September when he tried to cross from mainland China to Hong Kong and triggered an Interpol alert.
He did not oppose being extradited and was returned to New Zealand just before Christmas in the company of police.
Millions are still owing to the bank. According to police, there is an outstanding amount of $3.792m and authorities will be asking that Gao be ordered to repay the money when he is sentenced in August.
Gao was remanded on electronic bail after his lawyer Ron Mansfield pointed out that his client had not breached bail.
Judge Roy Wade said bail did not mean Gao would necessarily avoid prison.
Gao had nothing to say to waiting reporters as he left court in the company of Mr Mansfield.
Hurring, 33, was arrested when she re-entered New Zealand earlier last year.
Following a trial at the Rotorua District Court last month, she was found guilty of 25 counts of theft, three counts of attempting to dishonestly use a documents and two counts of money laundering.
She will also be sentenced in August.
The officer in charge of the investigation, Detective Inspector Mark Loper, was not immediately available for comment.
A spokesman from Westpac said the bank was grateful to the police for tracing the stolen money and bringing the case to a successful conclusion.
He declined to comment further.
TIMELINE
April 19, 2009: Gao applies for an overdraft of $100,000
April 21: Westpac makes an error and provides an overdraft of $10 million
April 24 to May 4: Funds totaling $6.7m withdrawn from the petrol station account
April 27: Gao's mother leaves New Zealand
April 29: Gao leaves New Zealand
May 4: Westpac learns of its mistake
September 2011: Gao arrested in Hong Kong
December 21: Gao returns to New Zealand under police guard
- APNZ