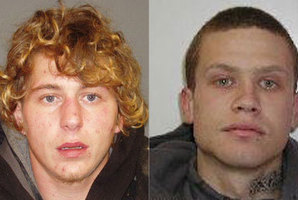 Corrections staff and police spent much of the day searching Waikeria Prison grounds for two escaped inmates who had already fled in a stolen car.
Jessie Lee Ibell, 24, and Wayne Holmes, 23, escaped from their cells in the prison near Te Awamutu early this morning.
Corrections said this morning it believed the escapees had been hiding in the prison grounds, but police confirmed late this afternoon they had fled in a stolen car.
Detective Sergeant Ross Patterson of Te Awamutu police said members of the public had confirmed sightings of the pair in the Hauraki Plains area this morning.
"It is our belief that when these men escaped they stole an older white Ford Laser car from Kihikihi which has been recovered in Kerepehi around midday,'' he said.
Police were notified of a security breach at the prison about 2.25am today.
Corrections prison services central regional manager Terry Buffery said the department was working closely with police to recapture the prisoners.
"Public safety is our number one priority and the circumstances of the prisoners' escape are being reviewed.
"The full details of the incident are not yet known and will not be known until they have been recaptured and the review of the escape has been completed.''
The escape happened in a unit due to be closed in April next year.
Mr Patterson said the men had extensive criminal histories and should not be approached.
Both men were described as thinly built Caucasians about 1.7m tall.
He called for public help finding the pair and said anyone who recognised them should ring 111 immediately.
- APNZ