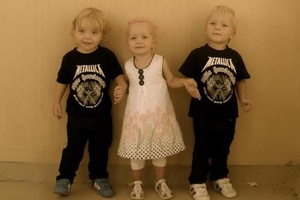 An online memorial page has been set up for the triplets killed in the Villaggio Mall fire in Doha.
"Words cannot describe how sad it was to hear about the tragic deaths of these lovely children. I pray that they will now be at peace in heaven and that their parents and family will be given strength,'' wrote Michael McGivern.
"Dear Martin, Jane and Family. You don't know me, but I can't stop thinking about you and your lovely little children. Words cannot express the deepest sympathy and admiration I have for you,'' wrote Bridget Kidd.
A memorial service for the triplets is being held this Friday at 1pm at St Paul's Cathedral in Wellington, followed by private burial.
The memorial is open to all and mourners are encouraged to wear Lillie, Jackson and Willsher's favourite colours of pink, blue and purple.
In lieu of flowers, the family are asking for donations to the Wellington NeoNatal Trust which can be left at the service or via their website at www.neonataltrust.org.nz.
Nineteen people died in the blaze last Monday - including 13 children.
The page is hosted on heavenaddress.com, 'a respectful online memorial community.'
- APNZ