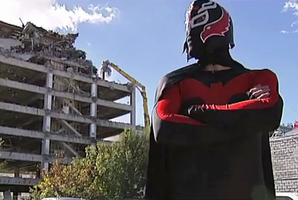 Masked student superhero Flat Man has launched his own music video.
The caped crusader has teamed up with New Zealand musician Jason Norris to release the video on YouTube.
The three-minute video follows his exploits around quake-battered Christchurch, making his flat doorstep deliveries and general good deeds, to the soundtrack song Superhero, performed by UK-based Norris.
"It looks awesome and was great fun to be a part of,'' says the mysterious leotard-clad avenger who comes to the aid of students in need.
"Jason Norris gave me his song Superhero, and he cut all the leftover Campbell Live footage into a music video which is really cool, super professional.''
The secretive Flat Man, who goes to extreme lengths to protect his identity from everyone, including his own student flatmates, is riding on a wave of success since he hit the headlines earlier this year.
He delivers food parcels, which usually include household basic items like toilet rolls, laundry powder, washing up liquid, but also some treats - "always chips, coke and chocolate'' - to city student flats.
All of the Flat Man stunts have been funded from his own pocket, and has cost him hundreds of dollars, though he has received around $300 in donations recently, including $100 from one big-hearted donor.
"Any money I get just allows me to do more good stuff for people. I also got $200 worth of Pizza Hut vouchers to hand out to some deserving peeps.
"As well as the flats, I've also been hooning about the University of Canterbury library quite a bit - just running in with a huge bag of goodies and dishing it out.''
Yesterday he appeared on kids' TV programme The Erin Simpson Show because he's become a hit with children, he says.
"Parents have been writing in telling me their eight year-olds have been running around the house shouting my slogan, `Be a bruv, share the luv'.''
The university student from Christchurch, who was inspired by the Student Volunteer Army's work in the wake of the city's earthquakes, has designed his own Flat Man costume, lighting bolt logo, and has a Facebook profile with more than 1100 followers.
View the video here:
- APNZ