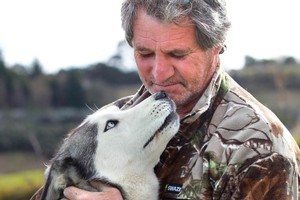 A dog that killed a kitten and attacked a boy has escaped the death penalty for a second time, to the relief of its owner - and the boy's family.
Siberian Husky Sky was classified as menacing and required to be muzzled in public after she attacked and killed a kitten in January last year.
But just a month later she attacked neighbour Jared Dunn, 11, while he was walking with his mother and their two dogs near their home in the semi-rural Auckland suburb of Riverhead.
Sky's owner Colin Andrew, 60, appeared at North Shore District Court today where he pleaded guilty to failing to keep a dog under control and failing to comply with classification.
The offences replaced charges of owning a dog that attacked a person and failing to muzzle his dog his lawyer Colin Mitchell said.
Andrew was ordered to pay a $450 donation to Jared and $40 for his medical costs.
He and Jared's father Nigel Dunn were both relieved Sky's life had been spared and the ordeal was over.
"I'm very pleased with the outcome. We never wanted that dog put down. It is a lovely dog,'' said Mr Dunn.
Andrew said: "We're all relieved, the whole family's relieved.''
Self-described dog lover Mr Dunn even said he would have taken in Sky "in a heartbeat'' to stop her from being put down.
"I would be devastated if someone said they'd take my dog away. We absolutely bear no grudges and we just want to move on.''
The attack on Jared took place when Sky was outside and unmuzzled on Andrew's property.
Auckland Council dog control officers said Sky ran onto the road and launched herself at the Dunn family's dogs. But they ducked behind Jared's legs and Sky bit Jared instead.
The court documents said Jared's mother Briar kicked Sky to get her off her son, who escaped with a small puncture wound to his leg.
Andrew disputed the details, saying his dog was gentle and "hasn't hurt anybody and I don't think she did this''.
But he acknowledged it was instinctive for the breed to injure kittens: "About every Husky that I know has killed a kitten.''
Mr Dunn said Jared was fine and still loved animals,even though it was the second time he had been attacked by a dog.
But the relationship between the neighbours had soured as a result on the ongoing issues and the Dunns moved home last week.
Since the incident Andrew has spent $5000 putting up a steel fence and securing the property to prevent repeat incidents.