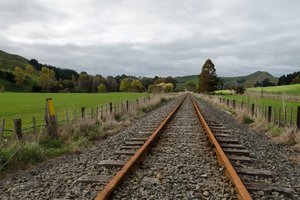 The Government has yet to decide the fate of the Napier-Gisborne rail line.
Transport Minister Gerry Brownlee would not commit to repairing the line under questioning from New Zealand First MP Brendan Horan in Parliament today.
Mr Brownlee said no decision had been made because the line was still under "active consideration".
The line was closed at the end of March after heavy rain caused three dropouts, one a 100-metre wide chasm, near Beach Loop.
KiwiRail has said it will cost up to $4.5 million to fix the damage but other maintenance required on the line had to be taken into account.
A decision had been expected by the middle of the month.
In Parliament today Mr Horan criticised the delay. He said the livelihoods of many families in the Napier-Gisborne region hung in the balance and many more were suffering more hardship because of Government indecision.
Mr Brownlee defended the delay by saying the Government wanted certainty about future crated exports from the area before making a decision.
"The question would suggest that transport routes into Gisborne are completely closed, they are not," said Mr Brownlee.