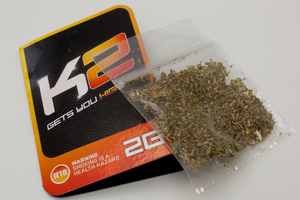 Another synthetic cannabis product is on the market and being sold at stores in Auckland.
Its stockist says it has been offered a range of other synthetic cannabis blends by "fly-by-night" companies based in the South Island.
The K2 synthetic cannabisis on sale at Erox adult stores to people aged 18 or over.
But a man who found his son smoking the product said it was also being sold at suburban dairies.
Contacted by the Herald yesterday the Ministry of Health said it would investigate the K2 blend.
The brand had been one of the most popular synthetic cannabis products in the United States.
Packaging information tells users to "have one toke and wait 10 minutes to feel the effects, gauge the strength before consuming more".
Erox director John Frew told the Herald the synthetic cannabis product was legal and had been on sale in his stores for about a month.
Customer feedback had been positive and the store had a strict R18 policy for all products, including smoking blends.
Mr Frew said he was opposed to such products being sold in dairies, but refused to name the distributor of K2.
His business had been offered a range of synthetic cannabis blends, some by companies it had never heard of and which were difficult to track down.
"[The products] look dodgy or one of our staff tried them and come back and say, 'Nah'. One week they've got one product, the next week they've got a different product. I think they are places out of the South Island. I think fly-by-nighters."
Last August the Government used urgent legislation to ban 43 synthetic cannabis products on the market, including industry leader Kronic.
The bans were a stop-gap measure while the Government drafts a law that would put the onus on manufacturers to prove their products are safe.
Such products contain plant matter laced with chemicals called synthetic cannabinoids, which mimic the effect of cannabis when smoked.
But manufacturers warned new products would quickly emerge because there were thousands of different cannabinoids.
They said banning as opposed to regulation would see dangerous "backyard cooks" replace established manufacturers in the marketplace.
A spokesperson for Associate Health Minister Peter Dunne said monitoring for new products was a matter for the Ministry of Health to comment on.
A ministry spokesman said investigation and any ban of a new substance usually took several weeks.
In October the Herald revealed a reformulated version of Amsterdam Cafe was being sold, less than three months after the initial round of bans.
The ministry says more than 50 synthetic cannabis products have been banned.