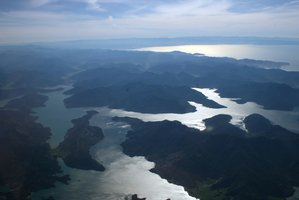 All species in New Zealand have been catalogued in world-first new report.
The final edition of the NIWA-led New Zealand Inventory of Biodiversity is set to launch this week in Te Papa in Wellington.
Every animal, plant, fungi or micro-organism - more than 56,200 living species and 14,700 fossil species - ever to live in New Zealand over the last 530 million years is catalogued in its three-volume inventory.
NIWA's Dennis Gordon, who edited the inventory, said that made New Zealand the first country to catalogue 'all of life through all of time'.
It had taken 19 specialists a decade to complete the 1758 page review, he said.
"Prior to this, New Zealand had a vast reservoir of undiscovered and unrecorded species.
"We have done the stocktake now, and by bringing it all together in this work, everybody can see what we have and we can use that information in all sorts of ways. Before the inventory, the species names were scattered throughout the scientific literature."
The New Zealand Inventory of Biodiversity was associated with a worldwide Catalogue of Life initiative which has described 1.8 million species of life.
Mr Gordon said the catalogue was born in 1997, when he decided to start reviewing New Zealand's teeming marine life.
"The project grew from that point."
He wanted it to spur learning in New Zealand high schools.
"I would really love to see students pick up one of these volumes and say 'Wow, I didn't know we had this in New Zealand', and for that to feed an interest,"
New Zealand Inventory of Biodiversity (Volume 3) will be launched at Te Papa on May 21.
Volume 1 and Volume 2 of the inventory covered the animal kingdom, while Volume 3 deals with the remaining groups of life - bacteria, protozoans, algae, plants and fungi.