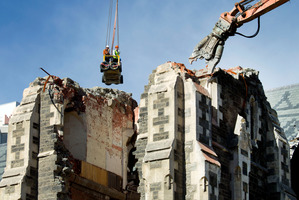 Christchurch City Council has moved to halt planned demolition work on the earthquake-hit city's landmark Cathedral.
Members of the Restore ChristChurch Cathedral Group (RCCG) this morning urged councillors to voice their opposition to Anglican Church-ordered deconstruction work.
Councillors voted 10-4 in favour of calling for a pause on deconstruction of the building.
Mayor Bob Parker, former Christchurch Cathedral dean Peter Beck, deputy mayor Ngaire Button and councillor Sue Wells voted against the move.
The vote has no power to stop the deconstruction work.
Despite that RCCG spokesman Mark Belton said the vote could spur Government to use its powers to stop demolition.
It reflected the passion Christchurch residents had for seeing the cathedral restored, he said.
"It is fantastic. This is a representation from the people of Christchurch. They all have a stake in this."
He was surprised at Mr Parker's decision to vote against the stay of demolition.
"I'm at a loss to think why he would vote that way."
Mr Belton said his group would reveal further campaign plans at an event in Christchurch tonight.
- HERALD ONLINE