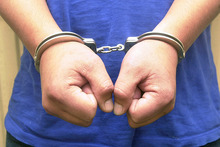 A man and woman were arrested after an attack on two police officers in the Christchurch suburb of Rolleston today.
A 28-year-old man charged with assault and resisting arrest, and a 24-year-old woman charged with obstruction will appear in the Christchurch District Court next week.
The incident happened just before noon after a female constable was sent to a callout about tenancy issues.
She found the people involved behaving "erratically and aggressively" and called for back-up, said Senior Sergeant Stew Munro.
The second officer to arrive was allegedly attacked by the 28-year-old and both officers were allegedly attacked by a dog.
The female officer received puncture wounds and bruising to her legs and needed hospital treatment.
- APNZ