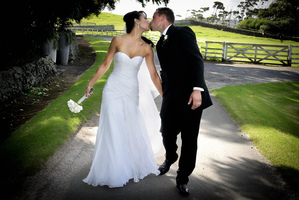 Elusive winning couple Krezentia and Koby Yates thought it was a hoax when they received a bank email telling them to call Lotto.
They waited hours before making the call to find it was no joke - they had won a Winning Wheel draw.
NZ Lotteries tracked the couple through Etfpos transactions and contacted them through their bank.
"We thought it was a joke and then we recognised the name on the letter as someone we had dealt with at the bank," said Krezentia.
"We found the ticket in the study with a pile of old tickets, we ended up sleeping with it under our pillow, it was so exciting."
The couple spun and won $200,000 cash, which paid for a lavish wedding and a deposit for their first house.
"We were able to spend a little more than we had planned to on our wedding and it has made a huge difference to what we had to borrow for our house, " said Krezentia
She now swears by using Eftpos to pay for Lotto tickets and has urged all her friends to do the same.
"If we had paid cash they would never have been able to find us, it is pretty amazing," she said.