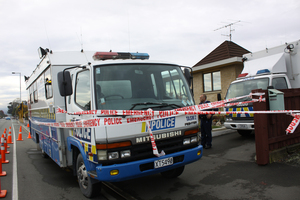 A man whose body was found face-down on a Timaru pavement is believed to have died in suspicious circumstances.
His death comes after police launched a homicide investigation into the death of a 39-year-old woman at her Nelson flat.
South Canterbury area commander Inspector Dave Gaskin said the man was found dead on York St, in the Timaru suburb of Seaview, about 3.50am.
The death is being treated as suspicious but police were awaiting the results of a pathologist's examination before the cause could be established.
"The pathologist is coming to make an initial assessment and then obviously in due course a post mortem, if required, will be ordered by the coroner,'' he told APNZ.
"We are conducting area inquiries around the scene where he is located, and we are examining the scene to see if that reveals any evidence as to what actually happened to cause his death.''
Mr Gaskin said police had some idea who the man was but were working to confirm his identify before next of kin were informed.
He would not reveal the man's age.
The death comes just hours after a woman was found dead in her street-front unit on Salisbury Rd, Richmond, about 6.30pm yesterday.
It is believed a family member discovered her body after she did not turn up to work yesterday.
Nelson police spokeswoman Barbara Dunn said the woman, understood to be the sole occupant of the flat, had recently come out of a relationship.
The incident was not believed to be a home invasion and the house was secure.
The woman would not be formally identified until tomorrow.
A close neighbour, who did not wish to be named, said she did not see or hear anything suspicious yesterday.
"We didn't hear anything until the ambulance arrived early evening.''
She said a man and woman had moved into the unit about 18 months ago.
"I had my doubts about them. They never, as I say, communicated very well - at least I didn't think so,'' she told APNZ.
"They kept very much to themselves. They didn't speak to neighbours a lot, and they haven't been here very long.''
The couple were a bit younger than than mostly older people in the area, the neighbour said.
They had never been problems in the past and the death had come as a surprise.
Forensic staff had visited last night and police photographers were this morning surveying the area.
The area was still cordoned off and police vans remained at the scene.
Police had spoken to neighbours and were wandering around the area all night.
The neighbour said she had "a restless night'' after she was interviewed yesterday, but still felt safe in the area.