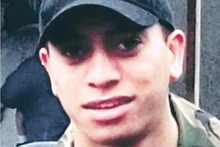 A police officer who fired 14 rounds when he shot and killed a Hawke's Bay man late last year was justified in doing so, according to a police investigation.
Lachan Kelly-Tumarae, 19, was shot dead by police after he threatened them with a loaded 12-gauge shotgun in Fernhill, near Napier, in March last year.
The police investigation into the shooting - which was carried out to determine if there was any criminal liability on the part of police - found that the officer fired 14 shots at Mr Kelly-Tumarae, although a number of shots were discharged before the officer realised he was firing too low.
One shot hit Kelly-Tumarae in the abdomen, and one passed through his right thigh. There was also a second shot that hit his right leg and a bullet fragment entered his left shoe, causing a superficial injury to his foot.
The investigation found that after he was hit and fell to the ground, Kelly-Tumarae was handcuffed by police due to his aggressive behaviour, but the handcuffs were removed when officers realised the extent of his injuries and provided first aid.
He was taken to hospital by ambulance, but he later died in Hawke's Bay Hospital from his wounds.
Detective Superintendent Andy Lovelock of Auckland said events happened "very quickly" and the entire incident only lasted 26 seconds from the time Mr Kelly-Tumarae stepped out of his car with the shotgun until the shooting was over.
The investigation concluded that Kelly-Tumarae did not respond to police warnings and he posed a "significant threat" to officers, pointing his loaded shotgun at them in a car at point blank range.
He was also wearing a full cartridge belt slung across his chest. Four police officers confirmed they saw Kelly-Tumarae with the shotgun and pointing it at their colleagues.
Multiple holes found on Mr Kelly-Tumarae's clothing after the shooting were attributed to the shirt being cut in places for forensic testing, the fact that some shots are believed to have gone through folded pieces of fabric and pieces of shrapnel which had left holes.
Mr Lovelock said the police investigation was now complete and the case would now be referred to the Coroner. An IPCA investigation into the shooting has yet to be finalised. He said the family was told of the results of the police investigation into the shooting.
- HERALD ONLINE