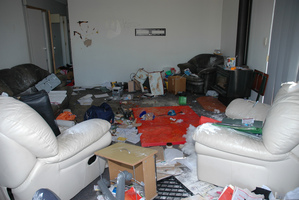 A grieving family returned from a holiday to find their furniture slashed, appliances destroyed and several walls scrawled with menacing messages.
The Lovell family went to Fiji after the loss of three family members but this week returned to find nail polish, eggs, cooking oil and sauce smeared across clothing, bedding, important documents and walls.
The contents of every drawer, wardrobe and cupboard were strewn throughout their Waihi home and messages such as "Die 2 Nite" were written on walls.
Tina and Simon Lovell and their five children took the holiday to escape a year from hell.
In July last year, Simon Lovell's mother and grandmother were killed in a horrific accident in Pukekohe. A few weeks ago, Tina Lovell's mother also died.
"We buried Mum the week before we went to Fiji," Tina Lovell said.
"We took the kids away to get over it, to celebrate our daughter's 16th birthday and Simon's 41st, and came back to this."
The house, which they had almost finished renovating, was completely trashed.
Flour was overheated and burned in the microwave oven. Alcohol taken from the cupboards was drunk, a large hole was made in one of the lounge walls and lounge suites and paintings were slashed with knives.
The fridge and freezer were left open and the contents had started to decay, releasing a stench throughout the house.
Simon Lovell's volunteer medal for helping at the Commonwealth Games had gone, as had a flat-screen television. A stolen laptop had been used to post abusive messages on one of the Lovell children's Facebook pages.
"You finally think you are getting somewhere in life and it comes back and bites you in the bum. I feel like I want to vomit, I'm just gutted," Tina Lovell said.
It was difficult to know whether some treasured possessions, which were still unaccounted for, had been stolen or were under the mountains of mess strewn throughout the house. Their insurance company had begun assessing the damage.
Waihi police Senior Sergeant Rex Knight said police were following, "a strong line of inquiry".
"The Lovells have been through hell and back. The offenders think they are untouchable, but we will get them," said Knight.
For more articles from this region, go to Bay of Plenty Times