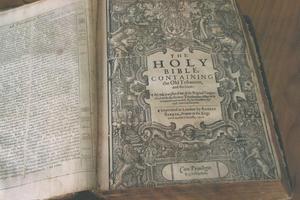 A 400-year-old King James Bible has been found in a box at the bottom of a cupboard in Palmerston North.
The Bible, now fully restored, will be dedicated at a special service at St Peter's Anglican Church this Sunday before being put on permanent display.
Elizabeth Hopper said it was down to her late husband Keith Hopper that the Bible was found.
2011 was the 400th anniversary of the first edition of the King James Bible, and he was preparing an exhibition for the City Library.
He needed an old Bible, so into the church cupboards he went and that's when he found the Bible at the bottom of a box.
"It was old and it was tatty," Mrs Hopper said.
The frontispiece read '1616'. They knew they had something special on their hands, and set out to get it authenticated as fast as possible.
"We didn't make a big fuss to start with. We had to wait to see if it was the real McCoy," Mrs Hopper said.
Mr Hopper got in touch with Anthony Tedeschi, Dunedin Library's curator of rare books, who quickly determined the book's authenticity. It It is believed to be the only 1616 King James Bible in the southern hemisphere and one of only a few left in the world.
Most of the restoration work involved rebinding the pages and repairing the cover.
"It's in quite good condition given that length of time," says St Peter's vicar Anne Chrisp.
Research has been unable to trace the original owners in England but Mrs Hopper said that added to the air of mystery.
"How did this thing that's so rare in the world end up in a box in Palmerston North?"