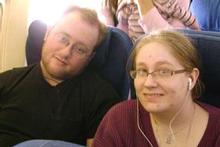 A series of recommendations have been made by a coroner following an inquest into the death of an American tourist who died while swimming with dolphins in the Marlborough Sounds.
Emily May Harper, 27, from Denver, Colorado, died of natural causes as she swam in the Tory Channel on October 20, 2009.
She was on a trip to Australia and New Zealand with her partner Matthew Hawkins _ who had proposed to her the night before she died _ his mother Sandra and his brother Andrew.
The group signed up to a tour with Dolphin Watch EcoTour and travelled out from Picton to Tory Channel on the morning of October 20, but Mr Hawkins could not enter the water because his wetsuit was faulty so stayed on board and watched.
After about 10 minutes of the group swimming and snorkelling in the water Ms Harper was spotted face-down by staff on the boat and was rescued and taken on board.
A doctor on the trip, along with trained first aid staff members and coastguard rescue workers were unable to revive her.
In findings released today, Coroner Christopher Devonport concluded Ms Harper suffered a medical event, likely to be a cardiac arrhythmic event, which resulted in her losing consciousness while in the water.
At the time of Ms Harper's death, Sandra Hawkins was critical that some of the staff from Dolphin Watch were not in the water with the swimmers, Coroner Devonport said he did not consider that would have meant Ms Harper was noticed any earlier.
"In fact, observation was made from the boat by two persons almost simultaneously as to her situation, and even persons four to five feet away from her in the water could not see that she was in difficulty.''
But Coroner Devonport has made a series of recommendations for similar snorkelling and marine charter activities.
He recommended that an automatic external defibrillator and an oxygen cylinder be safely stored and used on board such commercial vessels and all employees on board should be trained first-aiders, and at least two should be trained oxygen providers.
Coroner Devonport did note in his findings that he had no criticism of the equipment provided on board the boat by Dolphin Watch.
All three staff on board had first-aid training.
He also recommended Maritime New Zealand regulations be amended to ensure manning levels were sufficient to ensure customers were not essential to providing first aid or resuscitation, rescue and emergency procedures be documented and practised regularly, and an emergency protocol for getting assistance be in place.
- APNZ
By Jarrod Booker