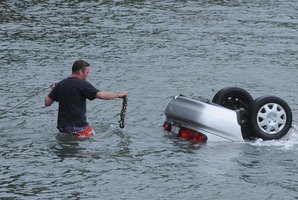 Two women had a lucky escape after their car left the road and ended up in Otago Harbour yesterday - the second car to do so in four days.
The car was heading to Dunedin about 2pm when it failed to take a bend and the car left the road near Glenfalloch, ending up in 1m of water about 5m from shore yesterday.
The two young female occupants scrambled from the car minutes before it was flipped upside down by the incoming tide.
The occupants were unhurt but in shock, according to English tourist Pauline Meade, a passenger in a following car.
"They got out the back door very quickly. We were all ready to go in, so it was a huge relief to see them get out," she said.
"They were very lucky. We thought it might have been a very bad situation."
Mrs Meade and her companions wrapped the women in survival blankets until emergency services arrived.
Senior Constable Lox Kellas said the women were taken to hospital for observation and to check for hypothermia.
"They were lucky. People have to adjust and drive to the conditions. We've had no rain for quite a while and there's always a transition period from dry to wet."
Two people were taken to Dunedin Hospital after a car went into the harbour at Turnbulls Bay on Friday.