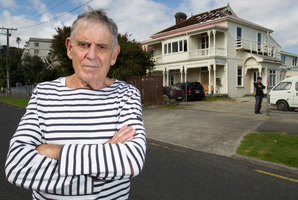 It was World Heritage Day yesterday, and artist Stanley Palmer spent it lamenting the demolition of a once prominent building in his beloved suburb of Mt Eden.
The acclaimed painter and printmaker is furious at the laziness of the Auckland Council from Mayor Len Brown down for failing to research the property at 16 View Rd, which his 1956 centennial history book of the suburb shows was the first Congregational College in New Zealand.
The two-storey wooden building dates to around 1900, about the same time a concrete Congregational Church and hall was built next door. It is now used as the Mt Eden Pacific Islanders Presbyterian Church.
Yesterday, three contractors were stripping the inside of the wooden building and the owner, who did not want to be named, said it would be fully demolished by next week.
Mr Palmer and another Mt Eden resident, Mike Battersby, have no issue with the owner, who bought the property about 18 months ago.
The owner also bought the neighbouring property at 18 View Rd and removed an old wooden villa from the site to build two houses.
Their argument is with the council and the mayor's office for not researching the property or showing any interest in saving it.
Dealing with the council, the artist said, was "like talking to a pile of concrete". And a letter from the mayor's office responding to their concerns was "like something out of Orwell".
Mr Palmer, who has lived in Mt Eden since 1941 and helped save the Mt Eden Methodist Church and hall in the village, said the View Rd building was a case of extreme neglect. In recent years it had been used as a boarding house and allowed to deteriorate.
Mr Battersby said the demolition of the building broke the thread of a group of larger, significant older buildings from Mt Eden Rd, Esplanade Rd and along View Rd to Sherbourne Rd.
"The developers are doing what they are fully entitled to do. It is the Auckland Council which is at fault for not recognising the significance of that part of Mt Eden.
"They have decided this area is open slather. It is changing the character of Mt Eden."
In a brief statement, tThe council said 16 View Rd was in residential zone 5, which was not a character or heritage zone.
Demolition of existing buildings was a permitted activity in this zone, so resource consent was not required.
Nor was consent required to demolish the building as it was under three storeys in height and a stand-alone structure, the statement said.
The Mt Eden case follows figures published in yesterday's Herald showing a higher percentage of applications to demolish homes in Auckland's character suburbs have been approved under Mr Brown's leadership than under his predecessor John Banks.
The Herald also revealed that council officers are resisting plans by the council's heritage advisory panel for urgent action to tighten the rules and give the public a say in demolition applications, the vast majority of which are not publicly notified.
Council chief planning officer Dr Roger Blakeley said a council review into approval to demolish a 130-year-old cottage at 18 Paget St in Freemans Bay resulted in changes under which contentious cases would go to senior management and local boards would be notified of applications and be allowed to contribute to the planner's report.
END OF THE ROAD
* A Mt Eden building dating back to around 1900 is to be demolished.
* 16 View Rd was the first Congregational College in New Zealand.
* The building is located in residential zone 5, which was not a character or heritage zone.
* Demolition of existing buildings is a permitted activity in this zone, so resource consent is not required.