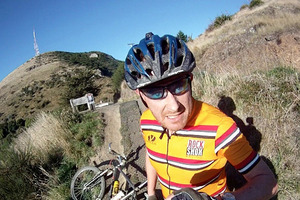 Police have made an arrest in the case of a mountainbike rider involved in an alleged "bike rage'' incident in Christchurch.
A 45-year-old local man has been charged with assault and will appear in court next week.
Jordan Brizzell, 24, claimed he was attacked by another cyclist who wouldn't let him pass on a popular trail in the Port Hills about 4.40pm on April 8.
The incident was captured on his helmet-mounted camera and went viral after being posted online.
Mr Brizzell said he posted the video because he wanted to identify his alleged assailant.
The video shows Mr Brizzell asking another man to move to the side of the path to let him pass.
"He was holding me up pretty badly,'' says Mr Brizzell.
"Trail etiquette says you pull over to let faster riders by. He kept saying yes but wouldn't give me a space. There were plenty of spots for him to pull over but he wouldn't.''
Asked again, the slower rider, who was wearing a yellow Rock Shox Racing top and tinted sunglasses, gets off his bike and confronts Mr Brizzell, saying he doesn't need "a f****** lecture'' while enjoying a ride.
The man appears to knock Mr Brizzell to the ground, where a struggle ensues.