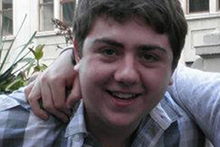 The father of the longboarder who was killed during an accident at the weekend said his son knew the sport was risky, but he couldn't wrap his children in cotton wool and deny them their passions.
James Eising, 18, was killed when he lost control of his board on Sunday during a downhill longboarding competition.
The accident happened after he tried to navigate a corner at about 40km/h on Colonial Rd, a steep and windy road in Birkenhead on Auckland's North Shore. He flipped and landed head-first on the road in front of dozens of onlookers.
Peter Eising, his father, told the Herald last night his son was very safety conscious and always wore protective gear.
"There's only so much you can do and then you just hope for the best. Some things in life are more dangerous than others, but you can't not do them. You can't wrap your kids up in cotton wool and not let them do anything."
Mr Eising said his son understood the risk that was involved with longboarding.
"He knew the risks as well ... but you never expect this sort of thing. You never expect a tragedy ... You just have to accept that he was doing what he loved."
The family was struggling to come to terms with the loss of their son and brother. "It's up and down and it will be for a long time I think."
James was studying to be a carpenter at UniTech and loved making his own boards and fixing up old ones.
He used to skateboard but moved to longboarding about four years ago.
"On Friday and Saturday nights he and his friends would head off into town with their gear and skate the carpark buildings when they're all empty," Mr Eising said.
He described him as "quite a quiet boy" who had come out of his shell a lot in the last couple of years. "He was just fantastic - just a lovely guy."
Yesterday a group of about 20 people - including family, friends and members of the longboarding community - met at Auckland Domain for a minute's silence. The Domain was one of James' favourite places to ride.
One of the organisers of the competition, Mike Thornton, said he genuinely did not believe anything could have been done to prevent the accident.
He said the minute's silence was moving. "It was very nice. But it was obviously hard for some of the kids and especially for the family. But I think it was also useful - this was the first time we've seen each other since.
"I know it sounds silly because it was only overnight but the last they saw of each other was to go away after the accident, shocked."
Mr Thornton, stood with Mr Eising's parents on Sunday after everyone else had left and cried with them for the loss of their son. "It was intense to say the least."
The parents had been "ripped apart" he said.
James, who had been wearing a helmet, gloves and safety padding on his knees, was declared dead by paramedics who arrived minutes after the accident.
James' funeral will be held on Friday at 11am at the Sacred Heart College Chapel in Glen Innes.
An account has been set up for those wanting to make donations to Mr Eising's family.
* Donations for the Fallen Skater Trust can be made to the following bank account number at ASB with the reference "sugar" on the deposit: ASB A/C: 12-3209-0460909-50
By Amelia Wade

Email

Amelia