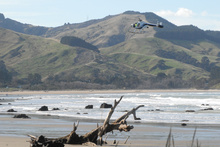 The official search for Wairarapa rugby player Eroni Ravaga-Gaunavou who went missing off Akitio Beach a week ago was put on hold at the weekend.
However, that did not deter scores of people from continuing to search for any sign of the popular Fijian.
At times up to 100 searchers - many fellow rugby players - joined the hunt for the Puketoi midfielder who disappeared while swimming with mates at the beach last Monday afternoon.
But by late yesterday there had still been no sign of him or clues as to what might have caused him to be lost at sea.
The 22 year-old, who had just recently been named in the Wairarapa-Bush side, failed to resurface after going underwater while swimming with his friends at the beach which - although in a remote area - is a popular spot for campers and anglers and is regarded as being one of rugged beauty.
The decision by police to call off the official search came after sweeps of the beach at low tide on Saturday night brought nothing to light, six days after the young man's disappearance.
Sergeant Andy Brooke, of Palmerston North Search and Rescue said suspending a search was never an easy decision.
However, the decision was made after a full assessment of the extensive efforts searchers had made over almost a full week.
Mr Brooke said there had been an "incredible response" from friends and others who had volunteered to keep searching.
"We've had farmers, volunteer firefighters, members of rugby clubs, local businesspeople and others from throughout the district all dropping everything to do their very best for Eroni and his family," he said.
Before the official search being stood down helicopters were used to sweep points north and south of the spot where Mr Ravaga-Gaunavou went missing and boats and jetskis were in the water all weekend during daylight hours.
By Don Farmer of the Wairarapa Times-Age