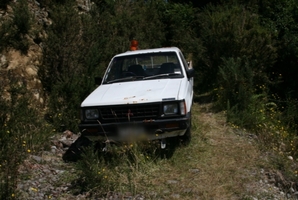 Five Nelson detectives will spend next week on the West Coast trying to solve the two-year-old riddle of what happened to goldminer Hugh McAllister.
The 70-year-old from Kumara was reported missing in January 2010.
Land, air and river searches were carried out, including checks of abandoned mine shafts in the old Greenstone goldfield, but all failed to turn up any trace of the missing man, although two days later his abandoned ute was found concealed with a $15,000 stash of gold inside.
Conjecture has been rife in the two years since his disappearance, the McAllister family fearing that he may have been murdered, while others speculated that he staged his disappearance and was now in Australia.
In early March, a former friend of Mr McAllister said he spied him driving south over the William Stewart Bridge, over the Taramakau River, heading towards Kumara, but police were unable to confirm the sighting.
About two weeks ago police again combed the Greenstone area looking for the source of a "strange smell" that a member of the public had reported, but again they found nothing.
Detective Paul Heathcote of the Nelson CIB said today those reports, and everything else in the file, would be reconsidered next week along with any new information or tip-offs. His team will arrive at Greymouth Police Station on Monday.
He appealed for members of the public to call in with any tips or hints that they believed may assist the investigation.
"We are coming to conduct a two-year review of the case. The object is to finalise all outstanding matters and follow up on all bits of new information that have been gained," Mr Heathcote said.
"If anyone has any information that could shed some light on Mr McAllister's disappearance, we need to hear it."
He said police had an open mind on the case and he would not say whether they believed Mr McAllister was alive or dead.
"There are a lot of unsubstantiated rumours out there which probably aren't helping the case, but the sole object of our investigation will be to locate Hugh McAllister."