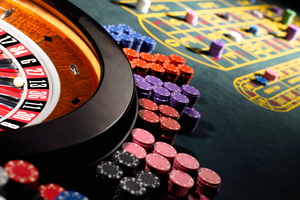 International gamblers rolling into Auckland to spend big bucks at SkyCity will soon be enjoying five-star hospitality on the high seas when the casino buys its very own luxury launch.
The casino is already in the headlines over a deal to build a convention centre in exchange for 500 more pokie machines, and Herald on Sunday revelations that it has secretly been paying tens of thousands of dollars to sports and media celebrities such as Mike Hosking.
But it is adamant it will not be courting more controversy by running high-stakes blackjack and baccarat outside the 12-mile maritime limit. SkyCity says it is negotiating to buy the ship solely for the purpose of entertaining its VIP clients.
There'll be fishing, sight-seeing and dining on board - but no gambling.
The launch adds to the casino's list of hospitality assets including 25 restaurants and bars, two hotels and the Sky Tower.
SkyCity spokeswoman Grainne Troute confirmed the boat purchase was imminent. "We're going through the due diligence around the purchase right now."
Troute wouldn't reveal details of the size or cost of the boat except to say it would have a "suitable degree of luxury".