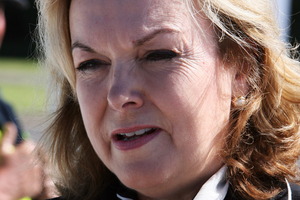 ACC Minister Judith Collins insists she will continue with defamation proceedings against two Labour MPs and Radio New Zealand.
Ms Collins is taking legal action against Trevor Mallard and Andrew Little for comments they made during an interview with the state-owned broadcaster over the leak of an email sent to her by former National Party president Michelle Boag.
The email at the centre of Ms Collins' defamation action was sent to her by Ms Boag a few days before ACC referred her friend Bronwyn Pullar's case to the police last month.
It remains a mystery who leaked the email, which Ms Collins forwarded to the ACC's chief executive and chairman.
Ms Pullar is the former National Party insider and ACC claimant who was mistakenly sent details of 6700 other ACC claimants and subsequently went the media about the privacy breach.
Asked today whether she had filed the law suits, Ms Collins told reporters it would "happen in good time".
"I've said all along that I'm very firm about this, integrity is extremely important to me and I have been defamed outside Parliament, very seriously," she said.
Asked whether she was bluffing, Ms Collins said: "I've been here 10 years, have you ever seen me bluff?"
Mr Mallard said this week he had taken "really good legal advice" on the matter.
"It is my view that we should let the case run if she wants to let it run because I think that will be more interesting."
Mr Little, Labour's ACC spokesman, said he had "nothing to apologise for".
"I'm doing my job of calling the minister to account. If she has chosen not to answer questions in Parliament then I'll raise those questions where I see fit."
Labour leader David Shearer said he did not think Ms Collins had much of a case against his MPs.
Ms Collins is funding the legal action from her own pocket.
Auditor-General Lyn Provost announced this afternoon that she will investigate the ACC board's handling of Ms Pullar's claim and the privacy breach.
- APNZ