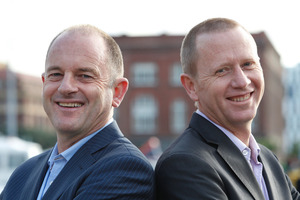 Labour leader David Shearer and his Green Party counterpart, Russel Norman, have shaved their heads to raise awareness for cancer - now Prime Minister John Key is being challenged to do the same.
Mr Shearer and Dr Norman went under the razor on Wellington's Queens Wharf this morning after taking part in a competition on the Shave for a Cure website.
People were able to vote for which of the two leaders they wanted to see lose their hair, and the "win" went to Mr Shearer with a two per cent victory margin.
Dr Norman had the honour of shaving off the first portion of the Labour MP's hair, but, under pressure from the 30-strong crowd gathered at the makeshift hairdresser, quickly decided to get the chop too.
Following the event, both seemed satisfied with their new hair dos - noting that the capital's chill was a little more noticeable.
"You feel every little breeze and every wisp of wind," said Mr Shearer, who had never previously had his head shaved.
There were a number of jokes about his thinning hair, and the leader joked that his hair had been "slowly going and I've decided to take it under control now and do it myself".
The bald feeling was not a new experience for Dr Norman, who once shaved off dreadlocks, but he said today's last-minute decision was for a good cause.
Shave for a Cure is a week-long fundraiser for Leukaemia and Blood Cancer, and donations go towards patient support programmes, research, information, awareness, and advocacy.
Spokeswoman Georgie Hackett told APNZ it was great to have the politicians take part to raise the profile of the organisation.
"We get all our funding through Shave for a Cure, so to have them on board is invaluable for us, it will help us continue our work with patients and their families."
Ms Hackett said she hoped other MPs would get involved too.
"The more the merrier ... I'm sure John Key would love to have a go as well," she said.
Mr Shearer also laid down the challenge for other MPs, saying it was great to raise awareness for the campaign.
- APNZ