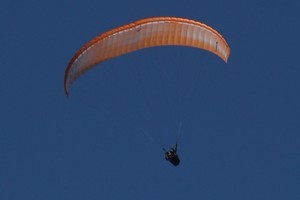 A 21-year-old Taupo man is in a stable condition in Rotorua Hospital with back injuries and a broken foot after he crashed into a hill while paragliding.
St John national communications centre team leader Brent Tobeck said the paraglider got into difficulty and crashed into a hill north of Taupo just after 11.30am today.
The site where he crash-landed is about 10km north of Taupo, near Wairakei.
"He's hit the side of the hill,'' Mr Tobeck said.
"It must have been a bit rough and he's crashed into the hill.''
He was airlifted by the Youthtown Rescue Helicopter Service to Rotorua Hospital with back and leg injuries which Mr Tobeck described as being moderate.
Taupo rescue helicopter pilot Andrew Harrison said the man was using a steep-sided grassy slope to get lift as he took off from the top of a hill.
However, the paraglider got too close to the ground and "tipped himself''.
"It looked like he had just got it a bit wrong and hit the slope,'' Mr Harrison said.
"He had launched himself off the top and then turned the wrong way and he has hit the side of the hill. It was a simple mistake.''
The man was believed to be on his own but people who went to his aid packed his chute so it wouldn't get caught up when the helicopter arrived.
Mr Harrison said they had to use a winch to get the man off the hilly slope.
"It was a bit difficult,'' he said.
A spokeswoman for Rotorua Hospital said the injured man was in a stable condition.
- APNZ