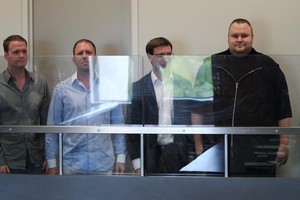 Two men connected to German millionaire Kim Dotcom have been granted bail.
Judge David McNaughton delivered his decision at the North Shore District Court today.
He granted Finn Batato and Bram van der Kolk bail. However, the judge said more submissions would need to be made on behalf of the third man, Mathias Ortmann.
It could be a week until the pair are released because the police need to check the bail addresses.
The pair have been banned from using or owning any device capable of connecting to the internet.
Outside court van der Kolk's wife, Asia, was emotional.
"I'm just glad my husband is going to be able to play with his baby again.''
A friend of Asia's, Amber Moltzer, said she was relieved van der Kolk was coming home.
"We knew he was coming home in our hearts.''
Asia rushed away to text the news to van der Kolk's Dutch family members.
Batato and van der Kolk are due back in court next Thursday.
The FBI is seeking to extradite Dotcom and the trio to the US to face charges of conspiring to commit racketeering, conspiring to commit money laundering, copyright infringement, and aiding and abetting copyright infringement over the internet through the website Megaupload.
Dotcom denies the charges and had his bail application declined by Judge McNaughton yesterday.
In delivering his decision, the judge said he was mindful of the scale of the alleged offending - "the biggest case of its kind ever prosecuted in the United States''.
He said he had no doubt that Dotcom, 38, could flee New Zealand if he wanted to because he had access to forged travel documents and money.
"The real question though on the bail application is whether there is any incentive to flee the jurisdiction.''
Judge McNaughton said if Dotcom fled to Germany, he would be safe from extradition because Germany did not have an extradition agreement with the US.
He said Dotcom was a real flight risk, with passports and bank accounts in different names.
Dotcom was remanded in custody until February 22, when extradition papers were expected to be filed.
Dotcom's head of security also appeared in court on a firearms charge earlier today.
Wayne Phillip Tempero, 55, appeared in North Shore District Court this morning charged with unlawful possession of a pistol, namely a semi-automatic shotgun.
Speaking outside court before his appearance, Tempero, who is in charge of security at Dotcom's luxury rented mansion near Auckland, said he would fight the charges.
He said the shotguns had been bought in Auckland with a licence.
- APNZ