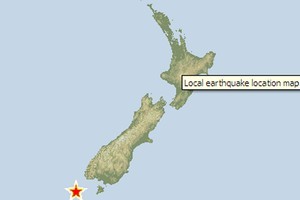 Three large earthquakes have struck off the southern coast of the South Island overnight, GNS Science reports.
The first, a magnitude 5.8, struck at 7.48pm, 180km southwest of Tuatapere and west of Stewart Island, at a depth of 12km.
It was followed a magnitude 5.5 quake at 10.01pm, 190km southwest of Tuatapere, also at a depth of 12km.
This morning a magnitude 5 struck at 1.46am, 190km southwest of Tuatapere, at a depth of 20km.
GNS Science said the first two jolts were felt across the lower South Island, with reports it was felt as far north as Christchurch.
There was one report the 5.8 quake was "slightly damaging" in Newfield, and "damaging" Appleby, Kingswell, Otatara, Strathern, and Te Anau Downs.
Police were not aware of any damage and St John received no reports of injuries following the quakes.
GNS Science seismologist Lara Bland told Radio New Zealand the second two quakes were aftershocks of the 5.8 tremor.
"It is possible over the next day or two [there will be more aftershocks] but I would say they will die away reasonably quickly, and people probably won't feel them."
Ms Bland said it was not surprising people reportedly felt the quake as a "surge".
"You tend to lose the high frequency energy the further you are away from the epicentre. That's when you get people saying it felt quite 'rolly'."
She said the quakes were too small to generate tsunami.
"We're always vigilant about that kind of possibility, but 5.8 is really too small to be worrying about a tsunami risk."