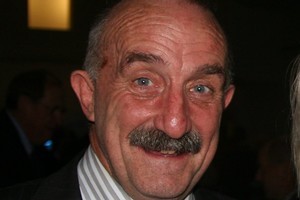 John Carter has been made a Companion of the Queen's Service Order for representing Northland in Parliament for 24 years.
He retired as an MP this year and is now New Zealand High Commissioner in Rarotonga.
Told of his appointment in the New Year honours list, Mr Carter said yesterday by telephone from Rarotonga that it was a great honour.
"I'm absolutely stoked," he said, explaining that he was a dedicated royalist and had met the Queen twice, in Wellington and at Waitangi.
He felt he would be receiving the honour on behalf of all Northlanders, as he was getting it only because of the support he had received in the region during his eight terms in Parliament from 1987.
Mr Carter said he was loving his "fascinating" new job, which kept him busy but without the pressure of his previous work which, in areas such as his Civil Defence ministerial portfolio, could be "full on".
"This country [the Cook Islands] has the opportunity to stand on its own feet in time, and New Zealand aid plays a big part in that," he said.
His work with aid projects included ensuring value for money for New Zealand taxpayers.
"I believe I can help add value."
Mr Carter said his wife, Leoni, was in Kaitaia visiting a new granddaughter born to her son.
To celebrate New Year's Eve tomorrow - the Cook Islands are 22 hours behind New Zealand - Mr Carter intended going to a club with his visiting mother, Gwen.
"I'll have a couple of quiet drinks with Mum and some friends," he said.
He was expecting his daughter, son-in-law and three granddaughters to arrive soon for a holiday.
"The [high commissioner's] house is big enough to put an army in," he joked.
It was 24C - "warm, pleasant, but quite cool" - in Rarotonga yesterday, with light rain after a cyclone had passed close by the previous day.
Mr Carter said he swam most days, did a lot of running, attended exercise classes and had the occasional game of golf.
The 61-year-old was "feeling great" and his blood pressure was "back to normal".
His diplomatic appointment is for up to three years.
He said he might return to Wellington for a Ministry of Foreign Affairs meeting at the end of February, but his main travel interest at present was to visit all 15 islands in the Cooks group, some of which were five hours' flying time from Rarotonga.
QSO
For services as an MP: John Carter.
- APNZ