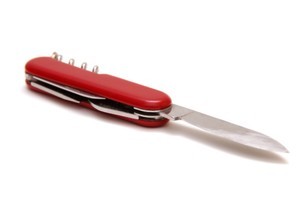 An intellectually disabled woman who brandished a pocket knife outside a support worker's home has been released after being held in compulsory care for more than three years.
If convicted of the comparatively minor offence she would have faced a maximum penalty of three months in jail or a fine of up to $2000.
But she was judged unfit to stand trial and committed to the compulsory care of the lower North Island's Central Regional Intellectual Disability Care Agency.
The woman, whose name is automatically suppressed by the Family Courts Act, was fixated on the support worker and frustrated at a perceived lack of attention.
The care agency obtained an extension to the initial, 2005, care order, but a second extension was quashed, at appeal in the High Court at Wellington, by Justice Simon France. The agency appealed to the Court of Appeal against Justice France's reasoning, but not against his quashing of the compulsory-care extension.
In a decision by five judges released this month and dismissing the agency's appeal, Court of Appeal president Justice Mark O'Regan listed incidents involving the woman, none of which led to charges, including assaults, destructive behaviour, aggressive behaviour and breaking into the home of a support worker with whom she was obsessed.
" The efforts at rehabilitation of [the woman] during the period of the initial compulsory care order and the first renewal had not made a significant difference to the risk posed by [her] and the prognosis was that rehabilitative efforts were unlikely to lead to any significant further diminution in this risk."
The agency and the Crown argued the main point to decide in making or extending a compulsory care order was whether the recipient posed "undue risk" to themselves or the community.
The Appeal Court judges rejected this "bright line test", stipulating instead that lower-court judges must adopt a broader evaluation, balancing the community's protection interest against the care recipient's liberty.
Justice O'Regan said that in the hypothetical case of a person at high risk of sexually offending against children, the balance would fall heavily in favour of community protection over the care recipient's liberty.
But in cases of ongoing compulsory care for minor offending, the care recipient was "effectively subject to long-term preventive detention", despite posing a relatively minor risk.