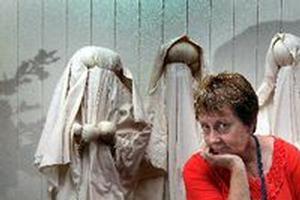 The nativity scene at Rotorua Hospital chapel is still missing its most important member - baby Jesus.
The hospital chaplain, the Rev Ray Bloomfield, was taking a service last Sunday when he looked over at the manger and noticed it was empty.
"I was flabbergasted. Why would someone do that?" he said.
The nativity, complete with baby Jesus, Mary, Joseph, the three wise men and sheep, is made of calico and was gifted to the hospital several years ago.
Mary, Joseph and the wise men each stand about 1.2m high and baby Jesus is about 30cm long.
Rev Bloomfield said he was very disappointed someone would steal Jesus.
The nativity scene was not sacred but had brought joy to a lot of people, he said.
One of the wise men vanished about three years ago but there was nothing malicious in that - a staff member had borrowed him for a ward decoration, not realising the figure was part of the nativity scene.
The wise man had since left the hospital and was being used for other displays.
Rev Bloomfield said the nativity scene was put up two or three weeks ago and it was not known when Jesus was taken.
He said he could be returned, with no questions asked. Anyone with information should contact him on (07) 348 1199, ext 8793.
"[The nativity] is not the same with two wise men and no baby."
For more articles from this region, go to Rotorua Daily Post