In 2011, nzherald readers' appetite for news exceeded all other years, driven by a series of major NZ stories that captivated our nation. Here are the most read stories by you in 2011.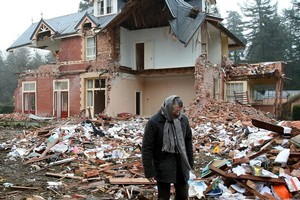 1. The Christchurch earthquake

The Christchurch earthquake was your top story of 2011, so much so, that the 11 most-read stories on nzherald.co.nz this year were earthquake related. It began at 12:51pm on February 22. Minutes later, reports of a quake so powerful it had damaged buildings throughout Christchurch started flooding into the nzherald.co.nz newsroom. Some sources, scarcely believable at the time, said it had been far more damaging than the 7.1 magnitude quake that hit the city on September 4 last year. The disaster that unfolded was comparable only to the 1931 Hawkes Bay earthquake. By the end of the day, emergency services had confirmed "multiple fatalities". The death toll kept rising in the months that followed, eventually settling at 181. Nearly all the dead were crushed under the rubble of falling buildings in the city centre, including 115 in the collapsed Canterbury Television building alone. About 6500 homes were damaged beyond repair.

The most read story of the year was that first breaking news report of a massive quake in Christchurch. In the days that followed you were drawn to latest updates on the disaster and to accounts of devastation.
But it is testament to the solidarity created by the quake that one of the top ranking stories was written by readers. A chance to send messages of support to quake victims in Christchurch received more than 2200 responses.

2. Seal pup wanders into home and puts his flippers up

A wandering baby fur-seal was the cute lead character of our second most popular story of the year. Bay of Plenty resident Annette Swoffer discovered the seal pup in her kitchen on December 11. It had travelled up her long driveway, under a gate and through a cat door before being found "hanging out" with her cats. Swoffer's account featured quotes such as: "They were giggling away and I'm saying 'I'm not drunk, I'm not lying', there's a seal in my house". The pup was released into the sea but was soon seen again on another residential road.

3. Tornado rips through Albany, one dead

The sight of a tornado ripping through a residential area of Auckland's North Shore sent shockwaves across New Zealand. On the afternoon of May 3, thousands read breaking reports of damage wrought by the swirling 200km/hr winds moving through the suburb of Albany. A resident Rob Crawford compared it to a scene from the movie Twister. "It's surreal. I think, 'it's a movie set. Is this real? Is this happening?' But when you see people lying on the ground, covered in blood, clutching their heads, it's damn real," he said. The tornado killed 37-year-old Fletcher Construction worker Benedict Dacayan, injured many others and caused widespread damage.

4. Snow falls in Auckland for the first time in decades

Many chuckled at the sight of Aucklanders reacting in glee to the sight of snow falling on the streets for the first time since the 1930s. Okay, some of the white stuff was a soft hail known as graupel, but forecasters eventually confirmed there were snowflakes in the mix of precipitation falling on the city. There was no such confusion in the rest of New Zealand. The "once in a lifetime" polar blast coated most of the South Island in white, while Wellington received its biggest dump of snow for 40 years.
5. Moon Man Ring softens quake predictions

A professed ability to predict earthquakes made so-called "moon man" Ken Ring one of the most controversial figures of 2011. After the first Christchurch earthquake on September 4, he had named March 20 as a danger day for another major destructive event. In the wake of the devastating February 22 aftershock, that prediction began to prey on the fears of traumatised Christchurch residents. Many started stocking up on petrol and other disaster supplies as March 20 approached. Our story about Ring qualifying his prediction as a "potential" event and admitting there were many "unknown variables" when it came to predicting earthquakes was one of the most popular of the year. It also revealed Ring's past life as a psychic specialising in reading cat's paws.

6. Kiwi teen's mystery UK death

Stalking claims and mystery marked the death of a 17-year-old New Zealand girl in Britain. Former Westlake Girls High School and Takapuna Grammar pupil Emily Longley was found dead in May, at the home of her boyfriend Elliot Turner in Bournemouth, southwest England. Two days before her death, she had posted on Facebook about a stalker calling her from a private number, telling her he knew everything about her and repeatedly asking her out. Turner was eventually charged with murder and perverting the course of justice. He has pleaded not guilty. His parents were charged with attempting to pervert the course of justice by not calling an ambulance.

7. Going to Aussie? Think again...

The daily exodus of young New Zealanders to Australia has long provoked political handwringing. But August delivered what promises to be a "brain drain" deterrent, with a report many young New Zealanders heading to Aussie are finding themselves broke, homeless and caught up in serious crime and prostitution. A Queensland community worker urged New Zealanders not to make the trip across the ditch unless they were properly set up with a job, a home and a back up plan in case things don't work out.
8. Dan Carter splashes out on his first day of wedded bliss

Will and Kate got the international spotlight, but your wedding of the year was the union of Dan Carter and Honor Dillon. The legendary All Black and former New Zealand hockey player tied the knot in a lavish ceremony at Timara Lodge near Blenheim on December 9. They were snapped the next day relaxing with guests on the lakeshore, with the groom making an underwear-clad kayak journey across the water.

9. King's College boy placed in detox room at ball

Kings College student David Gaynor attended his school ball on June 11. Hours later, the 17-year-old became the fourth student from the school to die in 18 months. Allegations of students at the ball abusing alcohol and drugs swirled in the days after the death. A report soon showed Gaynor had been placed in a "withdrawal room" for intoxicated students before his father was called to collect him early. The story provoked an outcry and renewed calls for New Zealand's drinking age to be raised.

10. Sportsman dies after choking on piece of food

A tragic story of a common fear which came true closed out our list of most clicked on stories for 2011. Mike Siave, 35, the captain of the New Zealand men's netball team, choked to death while eating dinner with his wife. He suddenly collapsed and could not be revived, despite his wife rushing to his aid. A coroner said he died of asphyxiation. His team will use all their games next year to honour their lost teammate.