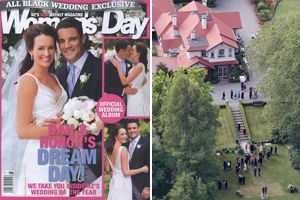 What better way to unwind after the Kiwi wedding of the year than to paddle on a private lake and practise your golf swing.
Newly-married All Black Dan Carter stripped down to - what else - his Jockeys to kayak across Lake Timara the day after exchanging vows with Honor Dillon.
Other guests at the exclusive Timara Lodge in Marlborough - including All Black teammate Ali Williams - amused themselves by hitting golfballs into the water.
Details of the glamour nuptials were a tightly-guarded secret, and closed roads and no-fly zones protected a magazine's deal to cover the Friday afternoon ceremony.
But exclusive pictures show friends and family relaxing together in the lush grounds the next day.
Another guest took the hi-jinks a step further to skinny dip, his modesty protected only by a yellow kayak.
All advance details of the wedding were kept secret, even from guests, as magazine publisher ACP went to extreme lengths to protect its investment, believed to be up to $100,000.
New bride Honor Carter was nowhere to be seen on Saturday, but the biggest secret of all - her silk gown by Auckland designer Anna Schimmel - is revealed in the latest Woman's Day magazine.
The bride's dress was cut low at the back with a crossover bodice, while the groom wore a custom Crane Brothers morning suit.
The dress was sleek, classical and conservative - couturier John Zimmermann said it was perfect for Honor and the garden wedding.
"It's a very lovely classical design. It's quite beautiful. I think it's very appropriate for Honor. She looks beautiful," said Mr Zimmerman, a 20-year veteran of the wedding industry.
"She's a sportsperson and they tend to look at slightly sleeker things and not really fluffy, tizzy dresses at all.
"They tend to be just that little bit more practical, figure conscious. Most sports people don't really want to show off their figures that much. They're often quite conservative and it is a conservative, classic gown."
The long veil of tulle was also simple and elegant.
Mr Zimmerman said Carter "scrubbed up well" in tails and a long, soft blue tie.
"He looks very handsome. He's a bit of a fashion person anyway. He looks very smart, very chic."
Among the 180 guests were All Blacks coach Graham Henry, All Blacks Richie McCaw, Ali Williams and Jimmy Cowan (a groomsman), Next Top Model host Sarah Tetro and Hayley Westenra, who sang Amazing Grace as the bride walked up the aisle.
The couple, both 29, also revealed how they met at university in Canterbury in 2001.
"She lived at my mate's flat. I'd call him all the time, in the hope Honor would answer the phone," Carter told Woman's Day.
"More often than not my mate would answer, but if Honor picked up the idea was to keep her on the phone as long as possible, so I'd written all these notes with ideas for topics of conversation we could discuss."