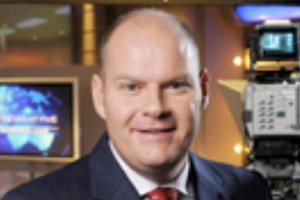 Journalists' boss at Channel Ten Sydney to take over slate of 18 shows from fellow Australian
TVNZ is set to announce that an Australian has been appointed as its news boss.
Ross Dagan, Channel Ten's Sydney news chief, is understood to have signed yesterday to take over as the state broadcaster's head of news and current affairs.
In a cross-Tasman exchange, Dagan will be filling a job vacated by Anthony Flannery - a fellow Australian - who has been appointed head of news for the whole Channel Ten network and would have been Dagan's boss.
TVNZ has been pressing for an appointment before Christmas.
Dagan will oversee 18 programmes including One News, Close Up, Breakfast, Q + A and Fair Go. A well-placed source expected an announcement today that Dagan will start in March, though TVNZ declined to confirm the appointment and Dagan could not be reached for comment.
Reports from Australia are that Dagan has been a popular boss but has had a relatively low profile compared with some of the other candidates for the job, including TVNZ head of newsgathering Cliff Joiner, who missed out and resigned on Wednesday.
He will now be the producer for Marcus Lush's breakfast show on RadioLive.
Channel Ten has the lowest profile of the the three Australian commercial television network news teams.
It has been facing upheavals and job cuts under ownership that includes Lachlan Murdoch and James Packer and the mining magnate Gina Rinehart.
Television sources approached in this country had not heard of Dagan, who has been director of news for Network Ten in Sydney since 2009 and held a similar role for Channel Ten in Brisbane before January 2008.
From January 2006 to December 2007, he was programme editor for Al Jazeera English-language operations and was involved in a team setting up the Kuala Lumpur office.
Dagan faces a tough task with possible changes to staff levels after TVNZ abandons its role supplying news to the TVNZ 7 operation when taxpayer funding runs out in July next year.
Chief executive Rick Ellis is stepping down in February and the TVNZ board is looking for a new CEO.
Yesterday, TVNZ announced that a sponsorship arrangement had ended for the early-morning weekday show AMP Business, and business would be incorporated into Breakfast, which will start half an hour earlier.
It is understood that the changes are partly due to concerns about the uptake for TV3's news-oriented, serious breakfast programme Firstline, presented by Rachel Smalley, which has been performing well in the ratings.
Other changes are afoot at TVNZ, with reporter Jack Tame moving to the United States. Current New York correspondent Tim Wilson is expected to fill in as a newsreader on TVNZ 7 until it winds up and to be used in other presenting roles.