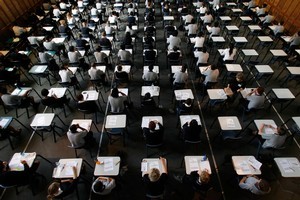 A teacher at a Tauranga college gave his students the answers to internal assessments, forcing the school to withdraw the NCEA results of 17 students.
The New Zealand Qualifications Authority found students studying level two and level three Maori at Otumoetai College had been given the answers to internal assessments by their teacher last year, Official Information Act (OIA) documents obtained by Radio New Zealand showed.
As a result of the investigation, 17 students lost their credits for Maori standards and five missed out on level three NCEA.
Otumoetai College principal Dave Randell said it came as quite a shock to the school.
"We got an outstanding report on what we do and we have very few of our credits challenged, so to have virtually a whole subject challenged was quite a shock,'' he told RNZ.
The teacher thought he was helping the students.
"You could call it cheating, but I think it was the naivity of the teacher trying to do what he thought was best ... it just doesn't work that way.''
The teacher underwent and successfully completed competency action. He no longer worked at the school and was overseas.
THis year NZQA refused to accept Samoan NCEA results from Aotea College in Porirua in August, and graphics and design technology and home and life sciences from Melville High School in Hamilton until the middle of the year.
Melville High School principal Clive Hamill said the school was unable to consistently confirm that the grades being awarded were able to be verified.
"So there were students that were getting achieved grades and others that were not getting achieved when in actual fact they met the standard.
"It was something we needed to address quite resolutely.''
- APNZ