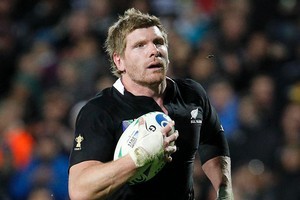 Adam Thomson normally has a way with words but he was struggling to describe his emotions when he discovered some of his most prized possessions - including All Black World Cup jerseys - had been stolen.
Thomson returned from an overseas trip on Sunday to find his central Dunedin apartment had been burgled.
He eventually realised, with a sinking heart, that among the stolen goods were at least three of his All Black match jerseys.
"There are a couple of World Cup ones and a Tri Nations one. I can't really replace those," Thomson said yesterday.
"I've worked a long time to get them, and they are pretty unique to me. The World Cup jerseys, especially, are sort of once-in-a-lifetime things. That's pretty disheartening."
Thomson, who lives alone, said he saw no signs of a break-in, and it took him a while to realise how many possessions had been taken.
"They've obviously taken their time, gone through drawers, made it look like there is nothing out of the ordinary.
"You feel really violated. To think of people rummaging through your drawers is a horrible feeling."
A stereo system, a PlayStation console, sunglasses, shoes, clothes and some foreign currency were also taken.
But those are replaceable items. Thomson feels much worse about the theft of the suitcases containing his All Black gear.
"I don't care about the other stuff. But it would mean the world to me to get the jerseys and other memorabilia back."
Thomson was on the reserves bench for the World Cup final victory over France, and also featured in the pool matches against Japan and France.
A Highlanders spokesman said Thomson was obviously pretty gutted by the loss of his jerseys.
Thomson was keen to talk to police about the possibility of offering a reward for the return of the rugby memorabilia.
One small consolation is that his Rugby World Cup winner's medal is locked in a relative's safe.
Thomson is enjoying a well-earned break after playing for the Highlanders and the All Blacks.
After the World Cup, he played for the Barbarians in England and in a charity game.
The 29-year-old has played 24 tests for the All Blacks.