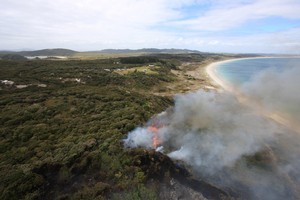 An inferno that raged across a remote Northland peninsula and led to the deaths of two men was the work of an arsonist, police have confirmed.
The November 30 fire on Karikari Peninsula spread across 130ha of tinder-dry bush, leaving three homes, 15 buildings and many cars and boats as charred remains.
Pilot John de Ridder and Department of Conservation ranger William Macrae died when the helicopter they were in crashed in blackout conditions about 350m off the coast of the peninsula.
It was the 14th suspicious fire to strike the area in the last 18 months.
Detective Inspector Karyn Malthus this afternoon said an investigation had ruled out any "natural cause" for the blaze.
Police were speaking to the community in the remote Northland area to find out who had been on the peninsula when the fire was lit, she said.
Kaitaia fire chief Colin Kit night earlier said the fires could be the work of a serial firebug.
"I believe a good number of these fires are deliberate and could be connected."
- HERALD ONLINE