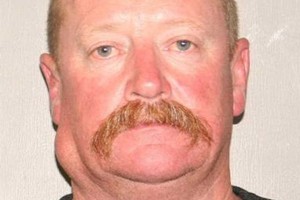 A wanted fugitive charged with cooking significant amounts of methamphetamine has been found guilty - despite being on the run for nearly a year and not being at his trial.
Steven John Mehrtens, 56, was found guilty at the High Court in Auckland last week of two charges of manufacturing methamphetamine.
He was arrested in May 2010 in raids described by police as one of the most significant disruptions to organised crime in New Zealand. But Mehrtens, who has a distinctive growth on the side of his neck, was released on bail and disappeared in January.
The Whangamata man was cooking methamphetamine in clandestine laboratories in the Coromandel and has links to the Waikato and Marlborough regions.
He is described as 177cm tall, of medium build and with sandy hair. Police say he is not believed to be dangerous, but advise against approaching him.
Mehrtens was found guilty of manufacturing methamphetamine with Waihi man Scott Warren Filer, 48, over a nine-month period between October 2009 and May 2010.
The Crown says that in that time, Mehrtens and Filer cooked between 2kg and 4kg of P, worth between $2 and $4 million.
The pair face maximum sentences of life imprisonment.
Others convicted of drug charges at the High Court trial include Phillip Ly and Hoang Quoc Nguyen, who admitted selling pseudoephedrine, the main ingredient in P.

WANTED
If you see Steven John Mehrtens, call the police or the anonymous CrimeStoppers on 0800 555 111.