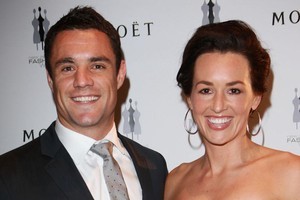 Dan Carter and Honor Dillon. Photo / Norrie Montgomery
Being engaged to Dan Carter may have felt like she was forever destined to be the bridesmaid but, on Friday, former Black Sticks beauty Honor Dillon was very much the star at her and Carter's idyllic wedding.
The bride wore a flowing ivory dress with a plunging front, a cutaway back, a 2m train behind her and a veil over her face.
The 100 guests gathered at a secluded lakeside spot at the exclusive Lake Timara Lodge, 15km west of Blenheim.
Carter and his four groomsmen, all wearing grey suits with long black tails, waited for Dillon as Hayley Westenra serenaded seated family and friends.
At 4pm, Dillon emerged from the nearby lodge. Her sisters, Michal Wells and Amber Edgar, were among the four bridesmaids.
Her father, Picton architect Jimma, led her across the bridge to a secluded grass verge surrounded by oak and willow trees on the 10ha site.
A sculpture of a large feather and a heart-shaped rock marked the spot where they exchanged vows in an Anglican service.
Westenra - who wore flowing white robes - was almost drowned out by the chorus of birds, said Dillon's cousin, David Dillon.
Former All Black Aaron Mauger said Dillon looked "stunning".
The couple exchanged traditional wedding vows and several hymns were sung during the 30-minute ceremony.
Meanwhile, teams of security guards with heat-seeking equipment scoured the forest surrounds for any uninvited interlopers.
Afterwards, the Christchurch songstress sang an aria while Carter and Dillon signed the register.
Gentried landowners of Marlborough - the well-to-do family friends of the Dillons - mingled with All Blacks past and present, including a hobbling Richie McCaw and coach Graham Henry.
Ali Williams, who weds fiancee Casey Green in a few weeks, was a keen observer of proceedings.
Secrecy was such that even the wedding guests had no idea where they were going when they gathered in the centre of Blenheim on Friday afternoon.
Road closures, privacy statements, threats of trespass - it had all the trappings of a celebrity wedding.
ACP Media, the publishers of the Australian Women's Weekly, which bought exclusive rights to the photos, arranged for planes to fly overhead during the service to prevent the press getting a sneak peak.
Jayson Ryan, managing director of Ryan Security, said the company had been doing "close protection security" for the All Blacks for years.
"Dan trusts us. We were the logical choice."
Security guards armed with night-vision goggles patrolled the lodge and neighbouring properties, Ryan said.
But despite the tight security, one lucky neighbour enjoyed a clear view of the entire ceremony.
After the vows, the party moved indoors to a large marquee for the reception.
The bridal party sat in front of a "blaze of peonies and oriental lilies a metre deep".
A four-piece covers band played for several hours.
At 10pm, the party moved outside to take in a huge fireworks display that lit up the sky.
Guests began leaving soon after, while others partied on until 1am.
Those who were talking said the couple scored a perfect 10.
HONOR TURNS HER BACK ON REGAL LOOK
She was marrying into rugby royalty but Honor Dillon steered clear of the princess look with her wedding gown. Instead, the 29-year-old went for metres of ivory-coloured silk satin wrapped into a plain but beautiful dress.
The colour - one shade deeper than champagne - set off Dillon's tan, and a plunging V down the back showed just the right amount of skin.
The front of the dress was less risque, with a modest V-neck and inch-thick straps across her shoulders. The bodice hugged her figure and streamed into an A-line skirt, without a hint of puffiness. A lightweight tulle veil trailed to the ground behind her.
- Celeste Gorrell Anstiss