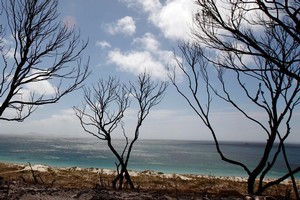 Senior Northland community leaders are echoing police concerns that the Karikari Peninsula blazes could be the work of a serial firebug.
A 130ha blaze this week that razed holiday homes was the 14th suspicious fire in the area in 18 months.
Pilot John de Ridder and Department of Conservation ranger William Macrae died after the helicopter they were in plunged into the sea as they tried to help fight the fire on Wednesday night.
Kaitaia fire chief Colin Kitchen last night called for the community to report anyone they think may have had something to do with the blazes.
"I believe a good number of these fires are deliberate and could be connected," Kitchen said.
"The sooner the culprits are brought to justice, the better. The police can't do this on their own - they need the assistance of the public."
Kitchen, a member of the volunteer brigade for 43 years, said: "This has been really stretching the resources of firefighters in the area for a long time and everyone is sick of it."
Far North mayor Wayne Brown also believed the blazes were not accidental and said he thought some of the fires seemed to be almost a political statement over land issues.
"There are people who are in a grievance mode around here but I hope they realise the enormity of what they have done now that two fine men have lost their lives," Brown said.
Macrae will be buried at Waipapakauri Cemetery on Tuesday morning.
Meanwhile, fire chiefs have ruled out a blaze the size of a football field in Omapere on Friday as being connected. It was started at the roadside near where children aged 14 and under had just got out of school.