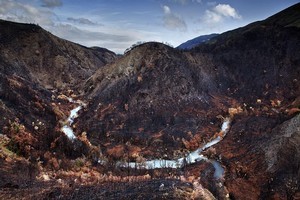 A fire that destroyed about 30 hectares of regenerating native bush in a conservation area left behind a scene compared to "Armageddon".
Photographs just released have revealed the extent of the damage caused by the fire two months ago in Otago's Matatiaho Conservation Area near Lake Hawea.
The local resident who took the pictures described the scene as "like Armageddon".
The fire was apparently lit on neighbouring Glen Dene Station to clear bracken, but it spread rapidly into the conservation area in the Craig Burn catchment.
The affected area had been healthy regenerating beech forest that formed an important corridor of native habitat between the mountain tops and Lake Hawea. It was a popular hunting and tramping area.
It took five helicopters and fire crew from Hawea, Luggate and Wanaka, as well as local Department of Conservation (DoC) officers, to put out the blaze. The Otago Conservation Board and DoC are urging care with any fires near conservation areas.
DoC Wanaka area manager Paul Hellebrekers told the board an investigation was under way into the fire, and that the total cost of fighting it was not yet known.