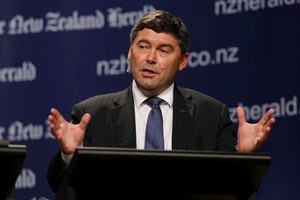 North Shore residents are fed up with MMP, after their controversial ex-mayor "snuck" into Parliament despite a miserable result in the polls.
Andrew Williams, mayor of North Shore City for three years, received just 2.5 per cent of the North Shore vote in last week's general election, but still entered Parliament as number three on New Zealand First's party list.
Mr Williams' time as mayor was marred by a number of high profile controversies, including urinating on a tree and then driving home after drinking at a Takapuna bar, and sending "abusive" text messages to John Key and other politicians at unsociable hours.
In a street survey in Takapuna, Mr Williams' appointment to Parliament was repeatedly called "ridiculous", "dreadful" and "a joke".
"He's a very lucky boy," said John Scott, 71. "He didn't do a good job as a mayor and I don't think he should be there, but it's not his fault, it's the system's fault."
An overwhelming majority of people cited the list MP system as a key flaw of MMP, and said they had either voted to change to another system because of it, or would like to see it tweaked.
"I want to know who I'm voting for," said Susanne, 49. "People should have to earn the votes themselves, not just get in for being on a ticket."
"I can't understand how someone I've never heard of, some weather man from way back, can get into Parliament," she said of Brendan Horan, sixth on New Zealand First's party list.
Lois Larsen, 71, thought that MMP was "the best of a bad lot", but that an overhaul was needed.
"If you're standing in an electorate you shouldn't be on the list as well. If you lose, you're not wanted and you shouldn't be allowed in."
Supplementary Member was the most frequently suggested alternative to MMP from those spoken to, and in the referendum was the second most popular alternative to MMP after First Past the Post.
Many, however, felt the alternatives were not properly explained.
A 58-year-old English as a Second Language teacher described the difficulty of explaining the systems to voters in her classes.
"The thing is there's a population of first language English speakers that don't even understand it. It's unfortunate the election came so close after the World Cup."
"I think a lot of people voted to retain MMP because they thought it's better than First Past the Post and they're the only two that they knew."
Alistair Lumb, 54, was one of those voters.
"There were some alternatives but I couldn't work out what one was what. At least under MMP you have some representation as opposed to First Past the Post."
Andrew Williams' appointment "generally stinks", but the worst abomination was by far John Banks, he said.
"He doesn't even get one per cent of the vote then he comes in, kicks the leader out, wants to change the name of the party and now he says he's after a ministerial role. It's out of order, really."
Predictions about Andrew Williams' performance in parliament were mostly without optimism.
"I'd make the prediction that within six months he would have disgraced himself down at [a local bar] with cheap booze. He's got a problem and he'll be in that sort of toxic environment [in parliament]," said Allan Trotter, 60.
"He embarrassed himself as the mayor of our fair city, the man is a problem."
A 36-year-old mother of two said it was disappointing that his only legacy was controversy.
"You want your MPs to be respectful members of the public. I think he abused his power and high profile last time and I suppose you can give people second chances, but I don't think he deserves it."
Those who spoke more diplomatically predicted Mr Williams', along with Winston Peters, would keep Parliament "interesting".
A 59-year-old director said New Zealand First would be an "extraordinarily effective and strident opposition".
"I don't think the government will know what hit it."
Often it's not necessarily rational stuff that drives New Zealand First MPs, but I've got no problem with that."
Who's in parliament is a reflection of society, you get some who are brilliant and some who are... interesting."
While Mr Williams' public urination was labeled "disgusting" by some, others saw it as nothing out of the ordinary.
"That's human isn't it? Men do it all the time," said one retail worker.
Stephanie Slyfield, 70, said she voted for Mr Williams because he was upfront and outgoing.
"He's definitely a party guy but I like party people, I'm one myself.
"Who cares if he pees under a tree? I peed under cars when I was younger, it doesn't make him a bad person."
Others, however, felt Winston Peters had tried to hide Mr Williams' place on the party list because of low opinions of his past actions.
"I was surprised when I found out he was on the list, it was like it was a secret," said Bernard McCrae, 47.
"I remember I was watching Winston rattle off his MPs on TV and he was struggling with the names. He definitely didn't mention Williams."
Secret or not, Mr Williams is in parliament now, and most have accepted it.
Bev Miller said she only hoped Mr Williams had learnt from his mistakes as mayor.
"He's there now for better or for worse. Hopefully he won't drive everybody mad by texting them every night."