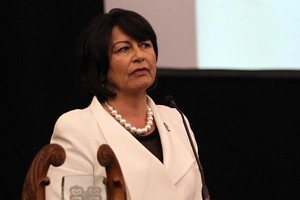 Prime Minister John Key is looking at a big Cabinet reshuffle in his own ranks as well as accommodating prospective support partners Act, United Future and the Maori Party with ministerial roles.
Hekia Parata is the frontrunner to be the next Education Minister, the Herald understands.
The present minister, Anne Tolley, is in line to pick up Police from Judith Collins.
And Judith Collins is likely to pick up Justice and Commerce from retiring MP Simon Power.
Hekia Parata is a first-term list MP who was promoted to the Cabinet after the resignation of Pansy Wong.
Anne Tolley has won the admiration of colleagues for pushing through the controversial national standards against a great deal of teacher opposition and is expected to retain her front-bench position.
Finance will remain with Bill English. Health will almost certainly stay with Tony Ryall but he could also pick up Defence from Wayne Mapp, who retired.
Gerry Brownlee is expected to regain Energy from Hekia Parata and Leader of the House, posts he relinquished when he took on Earthquake Recovery responsibility.
He will keep the latter as the Christchurch rebuilding enters a critical phase next year.
Transport Minister Steven Joyce is in line to get Economic Development, another post Mr Brownlee relinquished.
Whips Chris Tremain and Jo Goodhew are top prospects to be promoted to ministerial posts.
Because of the size of the National caucus and the limit on ministerial appointments, Mr Key is also thought to be considering reintroducing the appointment of under-secretaries in some portfolios who act as assistants to ministers in delegated roles.

Portfolio picks
Key - Prime Minister
English - Finance
Tolley - Police
Parata - Education
Collins - Justice, Commerce
Joyce - Economic Development