Three weeks before Sir Peter Blake was shot by pirates on board his exploration yacht Seamaster in 2001, TVNZ political reporter Robyn Janes visited the sailor and adventurer with then Prime Minister Helen Clark. She looks back at that last encounter with Sir Peter and catches up with his widow, Lady Pippa, who has written a new book.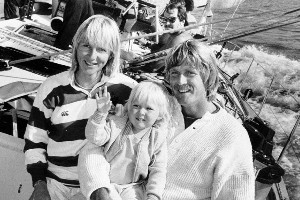 That conversation with Sir Peter Blake, on the deck of Seamaster as we watched the sun go down, sticks in my mind. It was 10 years ago but I'll never forget Sir Peter talking about the dangers of piracy. Such a threat seemed unlikely as I sipped on a cocktail and watched the sun sink low over the inky black waters of the Rio Negro in the Brazilian Amazon.
Three weeks later, New Zealand's most famous sailor would be dead, shot by pirates as he tried to protect his crew and yacht.
Back then he reassured me the Seamaster and its crew were prepared for unwelcome guests. A lift of the eyebrows on his suntanned face confirming my query about whether they were armed.
They were indeed armed but it was one of those guns, which malfunctioned that terrible night, that would lead to Sir Peter's death. He got one shot off before the gun jammed, long enough for one of the pirates to aim a fatal shot at the skipper.
As journalistic assignments go, this was one of the great ones. Cameraman Chris Brown and I were travelling with then Prime Minister Helen Clark on a whistle-stop tour of Latin America. When she decided to do a side trip to visit Sir Peter on the Amazon, TVNZ went along.
But those shots taken by Chris Brown during that visit to the yacht were not supposed to be beamed around the world, and to a shocked New Zealand, accompanying news that Sir Peter was dead.
My first view of Seamaster was of the yacht moored alongside a rickety old wharf in dense tropical jungle, enveloped in stifling heat.
But after a flight to Manaus in the middle of the jungle and another flight aboard a small plane to the town of Barcelos, deep in the Amazon, it seemed like coming home when we boarded Seamaster to the welcoming grins of the crew and the others on board, many of whom were New Zealanders, old friends of Sir Peter's or, in the case of two young British lads on their gap year, the sons of friends.
Half the crew had left on a jungle expedition and those left behind were in a relaxed mood. Although it was obvious Sir Peter was very much in charge, the atmosphere on board reminded me of a bunch of Kiwi mates on their summer holiday.
Sir Peter's wife, Lady Pippa, was on board as well and would leave just a week before her husband was killed.
In New Zealand this week, she told me that despite what happened she only has happy memories about that Amazon trip.
"I was there to spend time with Peter and to paint," she says.
"I had a romantic vision of the Amazon and was just amazed that I was there. I will never forget the stillness, the reflections on the river and the vastness.
"It was impressive Helen Clark made the visit to such a remote place to see what Peter was up to. It was the beginning of the voyage, they were only a year into it, but it felt like people were beginning to take notice."
Clark and her entourage got the red-carpet treatment and we went along for the ride. We filmed as she explored the river, fished for piranha and, after dark, went searching by torchlight for caiman, a small South American alligator.
That night Helen Clark had a cabin below but most of us slept in hammocks on deck. I was swayed to sleep with the sounds of the jungle under a vast starlit Amazon sky - it was magical.
The next morning we spent time interviewing Sir Peter. I knew him as the skipper who won the Whitbread Round the World Race and led Black Magic to successive wins in the America's Cup, thanks to those "lucky red socks" and a fair bit of sailing nous.
But this was Sir Peter Blake, the passionate conservationist.
He had been named the special envoy for the UN Environment Programme and was obviously proud of the honour. He had founded Blakexpeditions to raise awareness of the planet and its fragile eco-systems.
"Every five breaths you take, one of those breaths the oxygen that you breathe in comes from the Amazon," he told me.
You couldn't help but be inspired as he talked about how he used to sail in the Southern Ocean surrounded by dozens of big albatross. Now, he said, you were lucky to see one a week - he didn't think it was right that his kids, Sarah-Jane and James, would only see an albatross in a book.
All too soon we had to leave and return to the real world.
Three weeks later, I heard the shocking news that Sir Peter was dead. Within hours, Chris Brown and I were heading back to Brazil, this time to t Macapa, a bleak city at the mouth of the Amazon - its main claim to fame the fact it was divided by the Equator and notorious for piracy.
I remember feeling nervous when we approached Seamaster, not knowing how the crew would react to our return in such horrible circumstances. But, despite their grief, they were incredibly gracious and welcoming. They told us being so far from home it was comforting to know New Zealanders cared.
There was anger, and occasional tears, as they described how Seamaster had been waiting to clear Customs and was just days away from leaving the Amazon. The crew told us a group of them had gone ashore that night for a beer and to make some phone calls. They presumed it was then that the bandits had noticed them.
About 9pm, the crew were relaxing on deck when a group of armed and masked robbers boarded the Seamaster stealthily.
The crew were overwhelmed near the cockpit with guns held to their heads. In the confusion, Sir Peter was able to escape downstairs.
He returned with a rifle and shot one of the bandits in the hand, severing his finger. But then the skipper's gun seized up and, as he turned to try to fix it, he was fatally shot in the back.
The robbers left shooting. One of the crew, Geoff Bullock, had a close shave when a bullet glanced across his back, others had knife injuries, but only Sir Peter lost his life.
The crew were devastated. They had lost not only a leader and a friend, but a hero whom they felt had put his own life on the line for theirs. Some flew to the UK with Sir Peter's body; others were left to sail Seamaster out of the Amazon. It was with bitter memories they sailed from Macapa two days after our arrival.
We stayed to follow the police hunt for the culprits. To call them pirates is too generous a description. Low-lifes or bumbling opportunists is perhaps more appropriate.
All six men had police records, small-time criminals and not the brightest. Not only did they openly wear watches they had stolen but one parked the Seamaster's inflatable outside his home.
The bandit shot by Sir Peter went to hospital missing a tell-tale finger. It was only a matter of days before they were arrested.
The Brazilian locals were stunned the action of a handful of criminals had focused so much international attention on their home and appeared genuinely sorry. Lady Pippa even got a letter of apology from Brazil's President.
"I never had a grievance against Brazil, it was a tragedy that could have happened anywhere in the world. I would like to go back to that part of Brazil one day," she says.
Lady Pippa remembers the 5am phone call that woke her one December morning 10 years ago at her home in Emsworth, a seaside town in the south of England.
It was Kiwi friend and yachting writer Alan Sefton asking if he could come to the house. He, and a group of friends who arrived together, brought the shocking news - Peter had been shot and killed. In her book Pippa Blake, Journey, Lady Pippa writes about the blur of those next few hours and days, driving to Bristol University to tell Sarah-Jane the news and to James' boarding school in Dorset.
In her book, she says breaking the news to her son and daughter was the worst thing she has had to do. "I think worse than me finding out myself was having to tell the kids that their father had just been murdered. Killed. Actually, I hate using the word murdered."
After Sir Peter's body was brought back from Brazil, friends and family gathered at the Blake home.
Helen Clark came, so did Trevor Mallard (Minister for the America's Cup).
And after the funeral, the flight to New Zealand for a public memorial (30,000 turned up) at a time when the Blake family were supposed to be gathering for a family holiday in the Caribbean on Seamaster.
While Lady Pippa harbours no anger over her husband's death, she says she remains sad that his environmental mission was cut short and believes 10 years later some parts of the world are worse off.
"I think Peter would still be very concerned with the state of the environment."
Upcoming TV documentary Blakey on Sir Peter Blake's life: View magazine