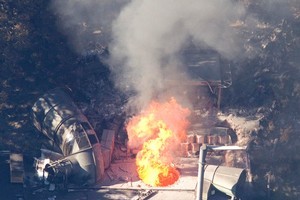 The Pike River Mine families intend appointing their own project engineer amid ongoing delays over the recovery of the 29 bodies.
The project engineer will be paid for partly by donations, will review progress to donate, and hopefully be granted access to the temporary seal, 170m inside the mine.
Families' lawyer Nicholas Davidson QC said this afternoon it now appeared a re-entry to the major rockfall would not happen by Christmas, and it was time to stop "just living in hope" and get some objective help.
"They will talk to us in real terms about what's do-able."
Families' spokesman Bernie Monk said they believed the mine had been safe for six months.
"We are not going to put up with it any more. We are putting our own people in place. This is the start of the families doing something for themselves."
A person has been approached for the position and will be formally appointed once the families formally sign off on it later this week.
Pike River Coal has released plans only to get to the rockfall; the bodies of the 29 men are believed to lie behind the rockfall.
Expert terrified of mine conditions
Meanwhile, the international mining expert brought in by Pike River Coal has revealed he was so scared of the underground conditions he warned staff not to use the hydro mining machine, but they started it up when he had a Sunday off.
Masaoki (Oki) Nishioka, from Japan, was brought in specially to commission hydro mining last year but he walked off the job just a month before the mine exploded, concerned it would "explode at any time''.
The Royal Commission of Inquiry into the November 2010 disaster that killed 29 men, heard today that Mr Nishioka arrived in July, and by October, as his contract ended, methane levels had soared and the fans kept failing.
He said he was "too frightened'' to go back underground at Pike River.
The systems were not designed properly, the wrong equipment had been purchased, the mine was gassier than he expected, the ventilation system was not working properly, there were not enough methane meters, no escapeway and nobody seemed to be in charge, he said.
Fixing the problems would have cost money and time, possibly as much as a year.
It was "really scary,'' he said. "I left the mine site because I felt the mine would explode at any time.''
One month earlier, Pike River miners had been offered a $10,000 bonus if they met production targets, and middle managers were getting the "strong word'' to get a shipment of coal off to India.
Mr Nishioka was asked to start up the monitor and he felt he could not refuse. As soon as they started cutting coal, methane levels shot up 5 per cent, so work eased.
At times, gas levels were so high the power tripped off.
"I told them, don't care about productivity, just go safely.''
Everyone at the coal face agreed to stop hydro mining. But one Sunday in early October, the monitor was started up, before the main fan had been commissioned.
Mr Nishioka was not at work that day. He was unsure who had ordered the work.
During his last day at Pike River, someone drained water from the methane lines but left the valve open. Gas levels rose, causing the fan motor to trip.
Nobody seemed to have "any idea'' how to handle the methane at the face, and ventilation problems were ongoing.
"Those fans were not so reliable, they were always causing trouble.''
A blade came off the surface fan, which was under stress as the main one was commissioned, and that was the third time it had happened. At one stage, both fans tripped and everyone had to be evacuated from the mine.
The main fan, which had sparked during commissioning, should have kept running no matter what was happening underground, he said.
Mr Nishioka expressed his concerns to former mine manager and later chief executive Peter Whittall, and was told a problem with the surface fan damper had not been fixed for a year.
The organisation was not functioning and appeared to have no "commander''.
People seemed "scared'' of management.
"Many mine staff appeared to be `yes men' ... they wanted to stay out of trouble with management.''
Immediately before he left he warned several staff of the risk of explosion, including George Mason, Pieter van Rooyen and Terry Moynihan, expecting them to talk to management, he said.
Mr van Rooyen told him he would not go underground because it was "too scary''.
He also strongly told mine manager Peter Whittall "everything wrong''.
Mr Nishioka speculated on ignition sources on the day of the November tragedy, and said sparks on the continuous mining machine at the coal face were one possibility.
The main ventilation fan was not flameproof, which was another option, as was the other non-flameproof equipment in the mine.
"I don't think there is any ignition source at the monitor face,'' he said.
Hydro mining is viewed by the Royal Commission as a `prime suspect' in causing the explosion because the coal face area was so gassy.
- APNZ