A year after the Pike River mine explosion, the 29 miners who died will today be remembered in a service by friends and families. Some relatives have come to terms with the tragedy, others remain resolutely angry.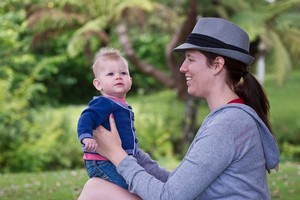 Erika Millicent Ufer will never meet her father. But one year on from his death in the Pike River mine, the 6-month-old recognises him as someone important in her life.
"If you hold up a group of photos and he's in it, she will eyeball him," says Erika's mother, Rachelle Weaver.
"She likes to smile and lunge out at him."
Erika's father, Australian Josh Ufer, 25, is one of 29 men to be remembered today, exactly a year after a killer explosion tore through the West Coast coalmine.
Miss Weaver does not need milestones like today to mark the time since she lost her partner. She has only to watch her daughter grow.
"People say 'oh my God, she looks like Josh'. But to me she looks like Erika. I know she looks more like her father than me but I don't see Josh's face in her. She's her own person."
A year on, with the initial shock and disbelief of the mine tragedy having faded, the views and feelings of the 29 grieving families are varied.
With charges recently laid over alleged health and safety failings at the mine, and a Royal Commission of Inquiry continuing to reveal a steady stream of serious safety concerns, some angrily front up demanding accountability, while others do not follow the courtroom sagas.
Some families are happy for the remains of their loves ones to stay where they are deep in the mine, others say they can never rest until they have their loved ones back with them.
Work is continuing to try to make the tunnel into the mine safe for re-entry, with efforts starting later this month to insert a remote seal and allow up to 2.3km of the tunnel to be re-ventilated. Further work, including getting past a rockfall blocking further access, may depend on the new mine owners.
The receivers for the mine say final bids are in and a sales contract could be entered into by Christmas.
"They've got to get in, they've got to retrieve the bodies and they've got to find out what happened so that it never happens again," says Sonya Rockhouse, who lost her son Ben in the mine, and very nearly her other son, Daniel.
"If they think it's going to be any different, then they better think again. Because we are not going away. We are not going to let anybody work that mine while they are in there."
"If we sound angry, it's because we are. Bloody angry."
Anna Osborne says she finds it surreal that a year on from the tragedy, her husband Milton's remains are still in the mine.
"He didn't actually like being underground. And there's no way in hell I want him to remain there," Mrs Osborne says.
"I haven't been able to have a memorial [service] for my husband because if I had done that, I would have felt I had given up on getting him home. Our men are just waiting."
Dean Dunbar, who lost his 17-year-old son Joseph in the mine, feels he has been fighting a continuous battle over the last year against people who have "ducked and dived".
"Only when my son is lying next to his granddad, where he should be, I will have peace."
Miss Weaver, on the other hand, doesn't feel anger. It may be because her focus has to be on Erika.
"I'd be snapping all the time if I let it all get to me."
She can move on without Mr Ufer's remains returned, but for the sake of his mother, would like to see it happen.
"She would really love to have him back on Australian soil. Because he was very patriotic. And [it would provide] somewhere to go and somewhere to take Erika."
Today's services will be a solemn occasion for many, but Miss Weaver doesn't see it that way. She plans to go out and party with friends in a celebration of Mr Ufer's life.
"I've been planning my outfit and everything else, my dance shoes. I'm probably going to be rather hungover on Sunday."
A tattoo she got on her leg this week, with Mr Ufer's initials and co-ordinates of his last known location in the mine, will serve as a lasting personal tribute to him.
Former Pike River Coal chief executive Peter Whittall, who was widely praised for his handling of the disaster but now faces health and safety charges alongside Pike River Coal (in receivership) and VLI Drilling Pty Limited, will not attend today's services.
In a statement, Mr Whittall said he did not want to "take anything away from a day that should properly be focused on those who lost family members".
Superintendent Gary Knowles, who led the rescue operation at the mine, said he was unable to attend because he was on leave and had prior family commitments.
Bernie Monk, who lost his son Michael in the mine, said constant support, even from strangers, had kept the families going over the last year.
"You sort of think 'are people sick of Pike River?' But with the information coming out all the time, I think a lot of people [are thinking] 'did that really happen down there? No wonder the families are like they are'."
Memorial services
The families of the Pike River 29 will travel to the mine this morning at 8am, where they will stay until a private service from 10.30am at nearby Atarau, with a memorial to be unveiled.
A public service will be held at Greymouth's Rugby Park from 2.45pm, finishing with a moment's silence at 3.44pm.
Governor-General Jerry Mateparae, families' spokesman Bernie Monk, Grey District mayor Tony Kokshoorn, Focus Trust family liaison officer Kathryn Leafe and Engineering, Printing and Manufacturing Union delegate Ged O'Connell will all speak at the public service.
Prime Minister John Key will do a reading.
Alisha Osborne, 14, whose father Milton Osborne, died in the explosion, will sing, along with Tracey Cameron, who will perform a tribute to her stepson, Ben Rockhouse.
Another smaller public service will be held at Blackball at 5.30pm.
Political leaders on the anniversary

Prime Minister John Key:
"A year ago, Greymouth and New Zealand were rocked by one of our worst mining tragedies. All New Zealanders mourned with those families who lost their men - their husbands, dads, sons, friends - on November 19. Today will be a poignant occasion for Greymouth. I know that all New Zealanders will join with those families in mourning and remembering the 29 men who lost their lives a year ago."
Labour leader Phil Goff:
"I think everybody down on the Coast would like to see more progress toward recovering the bodies and that's what they tell me down there. They feel the process is too slow and, for them, of course it is. Nobody wants to see anybody's life put at risk. But the questions I get on the Coast [are], 'Why is it taking so long? Why can't we make more progress than we are?' For those people it's about closure."