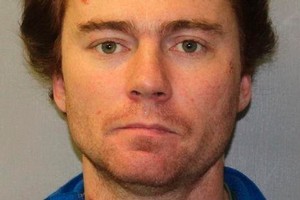 A 24-year-old woman has been charged with helping the man dubbed Houdini for his ability to escape from custody.
The unemployed woman granted interim name suppression at a hearing on Friday has been charged with hiding Aaron Forden to enable him to avoid arrest between October 10 and 17 this year after he escaped from the Mt Eden Corrections Facility.
Forden has been on the run from police three times this year, and is known for his ability to escape and change his appearance.
He was arrested at the woman's house in Silverdale, where police allege a bed was set up for him.
The accused woman's mother said the bed was for the family's dog which had been recovering from an operation.
"It's all bullshit. [She] has alibis for those days. He wasn't staying here," she said.
Detective Sergeant Iain Chapman said Forden was arrested at the rural Silverdale address on October 17.
He had been on the run for a week after he allegedly broke into a service-way and escaped.
The $218 million prison reopened in March this year run by private British company Serco. Two of its staff members were stood down following the escape. As part of Serco's contract, it can be fined $150,000 for an escape, though a Department of Corrections spokeswoman said an investigation was still under way.
Forden appeared in the Whangarei District Court last month on violence and dishonesty charges. He entered no pleas and was remanded in custody to reappear next month.