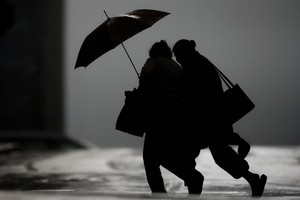 Heavy rain is on the way for parts of both islands today, MetService forecasts.
A severe weather warning has been issued for Fiordland, Southland, Bay Of Plenty, Rotorua, and Nelson.
Forecaster Oliver Druce says a front over southern Fiordland should move slowly north and weaken today.
"Another front is expected to swing southwards over the North Island this evening and tonight bringing widespread rain to northern and central New Zealand.
"A burst of heavy rain is forecast for northwest Nelson from later this afternoon until early Wednesday morning. And for Bay of Plenty, heavy rain is expected overnight.
In the 15 hours from 9am, another 60-80cm is expected in Fiordland south of Doubtful Sound.
In the ranges of the Bay of Plenty, rain is expected to get heavier this evening, with 70-90cm expected in the 15 hours from 6pm.
During this time 50mm may fall in some coastal areas.
Rain will also get heavier later today in the Nelson area west of Motueka. In the 12 hours from 3pm 60 to 80mm of rain is expected.
MetService said people these areas should look out for rapidly rising rivers and streams.
WeatherWatch.co.nz has also predicted a cold snap to hit the lower South Island at the end of the working week.
The short, sharp cold snap could bring snow flurries back into Queenstown and sleet into Invercargill, the prediction said.
Snow may affect some high altitude highways south of Canterbury.
November cold snaps are just part of spring weather and this blast shouldn't cause serious worries for farmers, said WeatherWatch.co.nz.
Hot weather and long hours of sunshine have been a dominant feature after a hot blast spread across the country in recent days.
The lower South Island has been topping the national temperature charts, and Dunedin hit 27 degrees yesterday.
Thermometers hovered around the 25 to 26 degree mark in cities around the country over the weekend.
WeatherWatch.co.nz said warm winds should return by Sunday or Monday.
- HERALD ONLINE, APNZ